Finnish navy captures suspected pirates in Arabian Sea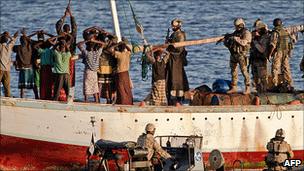 The Finnish navy has captured 18 suspected pirates on a boat in the Arabian Sea.
Marines fired warning shots to halt the vessel, to the south east of Oman, and detained the men on board for questioning.
The navy has been patrolling the coast of Somalia since February, as part of a European anti-piracy operation.
The commander suspects the group has been involved in ship hijacking, navy officials told Reuters news agency.
"A vessel was towing two smaller boats, and when the Pohjanmaa approached it, the vessel tried to escape and warning shots were fired to stop it," Commander Pasi Staff told Reuters news agency.
In the absence of an effective central government for two decades piracy has flourished in Somalia.
Wednesday's incident is the third time suspected pirates have been intercepted by European warships in the last 10 days.