Niger: Junta hands over to President Mahamadou Issoufou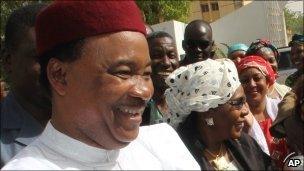 Niger's junta has officially handed over to newly elected President Mahamadou Issoufou - 14 months after seizing power.
The BBC's Idy Baraou says Mr Issoufou was sworn in at a ceremony attended by eight other African heads of state.
A long-time opposition leader and ex-mining engineer, he won last month's run-off with nearly 58% of the vote.
Soldiers ousted President Mamadou Tandja in February 2010 after he sought a third term in office.
Our reporter in Niamey says crowds of people waited in 40 degree heat outside the stadium where the ceremony took place to greet the newly sworn-in leader.
The military junta declared the day a public holiday and has gone to great effort to spruce up the capital, determined to make the event a success, he says.
During the ceremony, the outgoing junta leader, Salou Djibo, was decorated for his services to democracy.
In his speech, Mr Issoufou said it had taken patience and sacrifices to see that democracy returned to Niger.
He promised to alleviate poverty and fight famine in the largely desert nation, which has reserves of uranium.
Niger remains one of the world's poorest nations, and has witnessed a number of coups since independence from France in 1960.
Mr Tandja spent 10 years in power before being overthrown in the coup after the constitution was changed to enable him to stay in power.
He is currently in prison facing charges of corruption.