Ivory Coast: Abidjan cathedral provides refuge for hundreds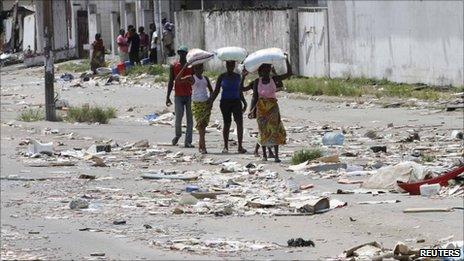 Aid agencies in Ivory Coast's main city, Abidjan, say they are facing great difficulty getting help to people because of continuing violence. Hundreds of people have sought refuge inside Abidjan's St Paul's Cathedral. Father Augustin Obrou, spokesman for the archdiocese of Abidjan, described the situation inside to the BBC World Service.
There are almost 1,800 people here, among them women and children who live locally, civil servants and employees who have been unable to return home because of the violence and have nowhere else to go.
We've had no running water for a week now, and we have babies here, as well as people who have been shot and pregnant women.
We've already had to ask the Red Cross to try to evacuate one woman who was in labour.
But we are not alone in this situation - other local churches have a similar number of refugees.
People can't leave because there is no transport. Even if you have a car you are afraid of being shot at, and if you go on foot you can also get attacked.
Also people can't be sure that their houses haven't been looted, and many neighbourhoods are too dangerous right now.
Generally people are traumatised, so they don't speak much, but they are also wary of who else is in the cathedral.
We tell them that no-one with weapons is allowed in and religion doesn't count here - it doesn't matter whether you are Muslim or Christian - and ethnicity is irrelevant too.
We welcome everyone as brothers and sisters, we don't talk about politics.
But people don't discuss their situation as they are worried there could be repercussions if they say too much about where they are from and whom they support.
All they say is there was gunfire where they were and they decided to take refuge in the cathedral.
You can imagine the drama we are living through here. It's very difficult because without water and food you can do nothing.
Only a few days ago when we managed to contact the Red Cross - which along with [the UN refugee agency] UNHCR can't move inside the city because of attacks and gunfire. They were able to provide us with some kits which included soap, toothbrushes, towels and some milk.
So we are coping by digging water out with long pipes, but it's difficult and people come to fill their buckets from the only pipe working.
Those who came with food eat, and those who are from this area rush out and look for whatever food they can get and rush back to the cathedral.
And as priests we share, but we only eat the bare minimum to survive.
It's a very difficult humanitarian situation.
The other problem is that we have no medicines, and many are unwell, but we can only watch them suffer.
Shots fired near the presidential palace are so near it's as if they hit us.
Our stained glass windows have been broken by stray shots and the vibration from the fighting.
The gunshots make the children cry and parents and children huddle together. The fighting terrorises everyone.
I don't know what condition these children will be in when they leave. We have no psychologists here.
We need help for Ivory Coast to find peace.
I want to ask the international community not to rush in finding the right solution to Ivory Coast's problems.
They are very complex and unfortunately the solutions taken in the past, in the heat of the moment, have only contributed to this crisis.
Related Internet Links
The BBC is not responsible for the content of external sites.