Nigeria: Vote counting begins after parliamentary polls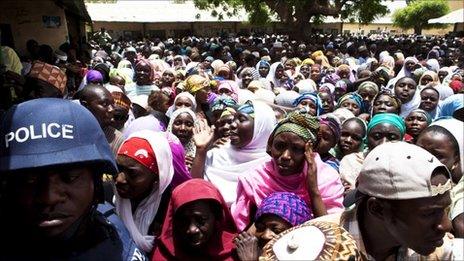 Nigerian officials have begun counting votes from the parliamentary election in Africa's most populous nation.
The election, which had been postponed twice in the space of a week, was marred by sporadic violence but was generally peaceful.
An EU observer said there was "almost no disorder and no intimidation" during the vote.
About 73.5m were registered to vote, with President Goodluck Jonathan's PDP battling to maintain its majority.
Security was tight, with armed police guarding polling stations, borders closed and flights grounded.
But at least three people died in a bomb attack at a polling station in the north-eastern city of Maiduguri - and the Maiduguri International Hotel was set alight.
And in Borno state, gunmen shot dead a local politician.
Polling had to be abandoned last week after election material failed to reach many areas.
The BBC's Caroline Duffield in Lagos says that many voters were nervous after a chaotic and violent build-up to the polls.
In the end, it was generally peaceful, and election chiefs will be relieved the day compares well to the disastrous rigging and violence of the 2007 general election, our correspondent says.
One resident, Owoale Adedeji, said the country was "still upgrading our democracy because we are still not very strong".
"But as time goes on and by the time we see the outcome of this election, then we will be able to know where we are and where we are going," he told the BBC.
Although some officials failed to turn up on time, observers said the organisation was better than last week.
"There was almost no disorder and no intimidation," the head of a European Union observer mission, Alojz Peterle, told Reuters from his initial reports.
EU observers said the last nationwide elections, held in 2007, were not credible.
Voting - for 360 seats in the lower chamber, and 109 in the Senate - had already begun last Saturday, and millions were queuing, when it was discovered that ballot papers were missing in some parts of the country, prompting delays due to the difficulty of replacing ballot papers.
The elected positions remain highly lucrative, with more than $1m (£610,000) in salaries and benefits, according to AP news agency.
Various issues have resulted in three separate announcements of postponements, while the elections for president and state governors have also been set back.
Mr Jonathan is widely expected to win the forthcoming presidential poll, but his People's Democratic Party is under pressure to stave off a cut in its majority in the National Assembly.
The presidential elections have been put back a week to 16 April, with polls to choose the 36 powerful state governors now to be held on 26 April.
On Friday, a bomb blast at the election commission's office in Suleja, 20 km (12 miles) from the capital Abuja, killed at least 10 people.
Nigeria: A nation divided
To win at the first round, a candidate not only needs the majority of votes cast, but at least 25% of the vote in two-thirds of Nigeria's 36 states. Goodluck Jonathan, of the PDP, reached that threshold in 31 states; runner-up Muhammadu Buhari of the CPC only did so in 16 states.
Nigeria's 160 million people are divided between numerous ethno-linguistic groups and also along religious lines. Broadly, the Hausa-Fulani people based in the north are mostly Muslims. The Yorubas of the south-west are divided between Muslims and Christians, while the Igbos of the south-east and neighbouring groups are mostly Christian or animist. The Middle Belt is home to hundreds of groups with different beliefs, and around Jos there are frequent clashes between Hausa-speaking Muslims and Christian members of the Berom community.
Despite its vast resources, Nigeria ranks among the most unequal countries in the world, according to the UN. The poverty in the north is in stark contrast to the more developed southern states. While in the oil-rich south-east, the residents of Delta and Akwa Ibom complain that all the wealth they generate flows up the pipeline to Abuja and Lagos.
Southern residents tend to have better access to healthcare, as reflected by the greater uptake of vaccines for polio, tuberculosis, tetanus and diphtheria. Some northern groups have in the past boycotted immunisation programmes, saying they are a Western plot to make Muslim women infertile. This led to a recurrence of polio, but the vaccinations have now resumed.
Female literacy is seen as the key to raising living standards for the next generation. For example, a newborn child is far likelier to survive if its mother is well-educated. In Nigeria we see a stark contrast between the mainly Muslim north and the Christian and animist south. In some northern states less than 5% of women can read and write, whereas in some Igbo areas more than 90% are literate.
Nigeria is Africa's biggest oil producer and among the biggest in the world but most of its people subsist on less than $2 a day. The oil is produced in the south-east and some militant groups there want to keep a greater share of the wealth which comes from under their feet. Attacks by militants on oil installations led to a sharp fall in Nigeria's output during the last decade. But in 2010, a government amnesty led thousands of fighters to lay down their weapons.
Related Internet Links
The BBC is not responsible for the content of external sites.