Libya conflict: Street battle rages for Ajdabiya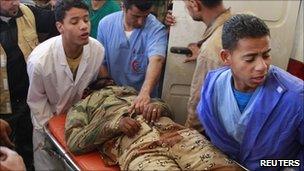 Pro-Gaddafi forces have launched a surprise attack on Libyan rebels in Ajdabiya, shelling the town and deploying soldiers on the streets.
The rebels said they had managed to repulse the attack on the key eastern town after several hours of fighting.
Doctors said eight rebels were killed in the violence.
In the western city of Misrata, Nato forces have intensified their air strikes and destroyed 15 tanks after an upsurge of violence.
Rebel leaders have been critical of Nato's attempts to enforce a UN-mandated no-fly zone, particularly since an air strike hit a rebel convoy earlier this week.
But rebel commanders now say they are heartened by the intensification of strikes on pro-Gaddafi forces on Friday and Saturday.
Nato announced that its jets had destroyed government ammunition stockpiles east of the capital Tripoli, tanks around Misrata and also military vehicles near Brega.
"In addition to hitting their supplies, our aircraft successfully destroyed a significant percentage of the Libyan government's armoured forces," said Nato's General Charles Bouchard.
The Nato operation has diminished the government's firepower, but pro-Gaddafi commanders have switched tactics.
On Saturday, as rebel fighters headed west from Ajdabiya towards Brega, government troops in pick-up trucks took desert roads and entered Ajdabiya.
A rebel fighter, Salah Ali, told the Associated Press that pro-Gaddafi soldiers had spread out in the city, and had begun fighting with weapons including heavy machine guns and grenade launchers.
The fighting raged for much of Saturday, and pockets of violence were still being reported after rebel commanders said they had beaten off the attack.
The BBC's Jon Leyne, in the rebel stronghold city of Benghazi, says the size of the raid on Ajdabiya suggests it was not a serious attempt to retake the town.
He says it was more an operation to harass the rebels.
Fighting also raged in Misrata, which government forces have had under siege for weeks.
Rebel fighters say they managed to repel an assault by pro-Gaddafi fighters, but added that eight rebels were killed.
The Red Cross say they have succeeded in bringing a ship in Misrata with vitally needed medical supplies.
They say they have also been given access to other parts of the country still under control of the government.
Red Cross official Jean-Michel Monod described it as a breakthrough.
Meanwhile, international efforts to find an end to the crisis are continuing.
A team of African leaders is expected in Tripoli and Benghazi later to hold separate talks with Col Gaddafi and rebel leaders.
And UN Secretary General Ban Ki-moon will host a meeting of international and regional organisations in Cairo on Thursday aimed at co-ordinating the response to the crisis in Libya.