Kizza Besigye held over Uganda 'Walk to Work' protest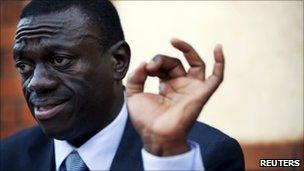 Kizza Besigye and two other Ugandan opposition leaders have been arrested after calling for people to walk to work in protest at fuel price hikes.
A police spokeswoman said teargas was used to disperse a stone-throwing crowd which was blocking a road leading to the capital, Kampala.
A BBC reporter says dozens of people, including opposition MPs, were held.
Dr Besigye was defeated by President Yoweri Museveni in February's election but says the poll was rigged.
He has been defeated by Mr Museveni in three presidential elections, gaining 26% to the president's 68% in February.
The pair used to be allies - Dr Besigye was once Mr Museveni's personal physician.
The BBC's Joshua Mmali says Dr Besigye was arrested after he sat down in the road, when police told him the mass walk was illegal.
As he was arrested, he told KFM radio: "We condemn this blatant abuse of human rights and use of violence on innocent people," reports the Reuters news agency.
A police spokeswoman told the BBC that Mr Besigye would be charged with obstruction of traffic and defying lawful authority.
Democratic Party leader Norbert Mao was also arrested as he walked to work.
Both were freed later on Monday.
John Ken Lukyamuzi of the Conservative Party was picked up off the streets and placed under house arrest.
Before February's election, Dr Besigye had called for Egypt-style uprisings in case of fraud.
The police responded by banning public demonstrations.
Related Internet Links
The BBC is not responsible for the content of external sites.