French troops enter centre of Abidjan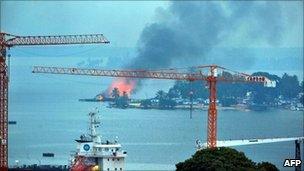 French ground troops have entered the centre of the main Ivory Coast city of Abidjan for the first time as incumbent leader Laurent Gbagbo refuses to quit.
Helicopter gunships are firing in the area around Mr Gbagbo's residence.
On Sunday, UN and French helicopter gunships began a new operation they said was aimed at destroying heavy weapons near Mr Gbagbo's residence.
Mr Gbagbo has been refusing to cede power to internationally-recognised President Alassane Ouattara.
Loud explosions can be heard echoing around the lagoons which surround the centre of the city, says the BBC's Mark Doyle in Abidjan.
On Monday morning, a large column of French armoured vehicles left the French military base in Abidjan.
A spokesman for Mr Ouattara has said his troops were involved as well, and that this was the largest joint attack since the conflict began.
The action will not stop until Mr Gbagbo steps down, the spokesman added.
French helicopter strikes have partially destroyed Mr Gbagbo's residence, one of his ministers said.
But the Ivorian leader was still alive, according to one of his spokesmen in Paris, quoted by Reuters news agency.
An aide to French President Nicolas Sarkozy has said the French strikes are to avoid a "bloodbath" rather than to depose Mr Gbagbo.
Monday's strikes came a day after a hotel serving as the headquarters for Mr Ouattara came under fire.
The French, who are by far the best equipped military force in Ivory Coast, are operating with a United Nations mandate, our correspondent adds.
Their official justification for Monday's action is to remove Mr Gbagbo's heavy weapons, which the UN says have been used against civilians, and have also been targeting the UN.
Mr Gbagbo's side says this is just a pretext, and that the French want to kill the incumbent leader.
Mr Gbagbo has been surrounded in his residence for days by pro-Ouattara troops.
On Tuesday, he was said to be "hours away" from surrender, but then he took refuge in a bunker under the residence.
The UN said on Friday his forces had used a lull in the fighting as a "trick" to regain ground in Abidjan and strengthen their position.
UN peacekeeping chief Alain Le Roy said late on Friday that Mr Gbagbo's followers had in fact made strong gains, and that the the upmarket Plateau and Cocody areas of Abidjan were in the control of his forces.
Related Internet Links
The BBC is not responsible for the content of external sites.