Ivory Coast head-to-head on Gbagbo arrest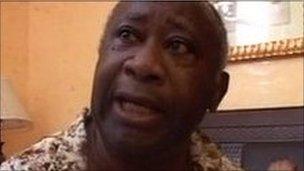 Besieged Ivory Coast leader Laurent Gbagbo has been detained in the main city Abidjan and delivered to the headquarters of his elected successor, Alassane Ouattara.
Mr Gbagbo was reportedly captured by Mr Ouattara's forces after French tanks advanced on his residence.
Here, a pro-Ouattara and pro-Gbagbo supporter react to the former president's arrest and debate what comes next for their troubled country.
Bile Ben Bile, Abidjan, Ivory Coast
We are really happy here watching pictures of former President Laurent Gbagbo, after being captured.
There is a great feeling of happiness and celebration and we look forward now to the end of intimidation, fighting and violence in our country.
However, my family and I remain too afraid to leave the house.
We have not been able to go out on the streets since last week, and my wife and children are currently hiding in the bedroom, as Gbagbo's "boys" are still on the streets, and we could hear some noise just outside a short time ago.
They still have weapons and we are afraid that they could still come and kill us.
These "boys", who are mostly young students, have been so stupid throughout, carrying around their weapons as if they're toys and killing people.
We still don't know how they will react. They are only just finding out the news themselves.
But we hope the [pro-Ouattara] Republican Forces will come in and protect us, so we can make this the date where we finally moved towards freedom and becoming a responsible country.
The former president had 10 years and he did nothing.
We have elected Alassane Ouattara and he must be given his chance.
Anthony, from Abidjan, Ivory Coast, currently in Accra, Ghana
I felt helpless when I heard the news. The West has imposed its own form of democracy on Ivory Coast.
But you cannot have democracy when you capture Gbagbo and give him to the rebel forces.
This is not the end of the crisis, only the beginning. There will be more bloodshed in Ivory Coast. The time of real demonstration has not yet properly come.
It's so easy to overthrow an elected president. It's an international conspiracy, led by France, the US and the UN, to install the president they want.
You really now have to question the neutrality of UN forces.
Ouattara is just a Western puppet. He is not representative of the population and has taken power by violence, with the help of the French, the US and UN.
But tomorrow will not be any better for Ouattara. There will be retaliation through further violence. He does not have the monopoly on violence.
What the international community has created in Ivory Coast is a first.
We have now crossed a line and we will see a descent into hell.
What happened in the last few weeks is nothing compared to what's ahead - a return to civil war.
Interviews by Stephen Fottrell.