Moussa Koussa, ex-Gaddafi aide, leaves for Doha talks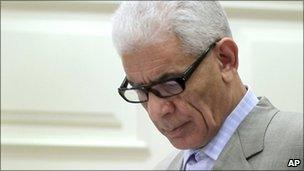 The most high-profile minister to flee Libya, Moussa Koussa, has left the UK for Qatar, the Foreign Office has said.
The former foreign minister had been staying at an undisclosed location in the UK after travelling from Tunisia.
An FCO spokesman said it was understood he would meet the Qatari government and a range of other Libyan representatives in the capital city Doha.
A spokesman said Moussa Koussa was "a free individual, who can travel to and from the UK as he wishes".
In Libya, rebels opposing the country's leader Col Muammar Gaddafi have been pushed back despite the ongoing Nato-led bombing campaign.
On Tuesday, pro-Gaddafi forces launched fresh artillery attacks on the rebel-held city of Misrata, as the Ministry of Defence reported RAF Tornados patrolling the area had destroyed a Libyan battle tank.
Moussa Koussa, the former Gaddafi aide, is believed to be on his way to the Qatari capital ahead of Wednesday's meeting of an international contact group on Libya's future.
Mr Koussa, who fled to the UK on 30 March, is a former head of Libyan intelligence and has been accused of being involved in the 1988 Lockerbie bombing.
He has been interviewed by Scottish police investigating the attack which killed 270 people.
Scotland's First Minister Alex Salmond said Mr Koussa was not under Scottish jurisdiction and therefore they had no power over his movements.
"However, we have every reason to believe that the Scottish authorities will be able to interview him again if required," he said.
In a statement to the BBC on Monday Mr Koussa said he had been "devoted" to his work for 30 years under Col Muammar Gaddafi, and was confident the regime was serving the Libyan people.
However, he said, after recent events "things changed and I couldn't continue".
"I know that what I did to resign will cause me problems, but I'm ready to make that sacrifice for the sake of my country," he said.
He also warned against the risks of civil war and the possibility of his country becoming "a new Somalia".
Former Foreign Secretary Sir Malcolm Rifkind said some people would be "very upset" by Mr Koussa's departure but it "ought to be welcomed not deplored".
He said Mr Koussa's departure could "reassure other guys considering defecting that they won't be immediately sent to the Hague", where the International Criminal Court is based.
Conservative MP Robert Halfon, whose family fled Libya when Col Gaddafi took power, insisted the coalition was repeating mistakes made with Lockerbie bomber Abdelbaset al-Megrahi.
"Many people will be very anxious that Britain is being used as a transit lounge for alleged war criminals," he said.
"We should learn from the release of Megrahi that we should not release those people associated with Gaddafi or let them out of the UK until they have faced the full course of the law, whether in British courts or international courts."
The BBC's Laura Kuenssberg said she had been told by a senior figure in the Scottish government that Mr Koussa should have given assurances to the authorities that he would return if Scottish prosecutors wanted to talk to him again.
"I understand he has expressed a further willingness to talk to the Scottish authorities if they do make that request," our political correspondent said.
"Whatever the controversy about his departure from the UK so soon after he got here, the hope is that him going to Doha will help the situation in Libya move towards a peaceful settlement."
On Tuesday, Foreign Secretary William Hague urged Nato to intensify military operations against Col Gaddafi's regime.
The US and other Western allies began air strikes on 19 March after UN Security Council Resolution 1973 authorised "all necessary measures" to protect civilians.