Kenya's Ruto acquitted of corruption over land scandal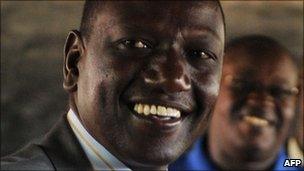 High-profile Kenya politician William Ruto has been acquitted of corruption charges by the chief magistrates court.
He was accused of defrauding a state corporation of $1.1m (£700,000) 10 years ago over the sale of forest land.
Mr Ruto, who was suspended as higher education minister over the case, is also one of six suspects who appeared before The Hague last week.
They are accused of links to 2007-08 post-election violence and may face trial over the allegations.
Correspondents say Mr Ruto is a controversial figure in the coalition government that took power in 2008 to end the violence in which some 1,300 people died.
He is deputy leader of Prime Minister Raila Odinga's Orange Democratic Movement, but the pair have fallen out.
Mr Ruto has declared his intention to stand in the 2012 presidential elections, though any criminal charges could end his political ambitions.
The suspended cabinet minister, who was in court on Tuesday along with two other defendants, said the case which was first investigated in 2003, was politically motivated.
''I am happy the truth has come out after eight long years," he told the BBC outside the court in Nairobi.
"Yet again this ruling has vindicated me and I am sure all the other [cases] ahead of me face the same fate because I am an innocent man."
Last week, he told judges at the International Criminal Court (ICC) that the allegations he faced over the election violence "sound to me like they can only be possible in a movie".
Related Internet Links
The BBC is not responsible for the content of external sites.