Ivory Coast: Top generals pledge loyalty to Ouattara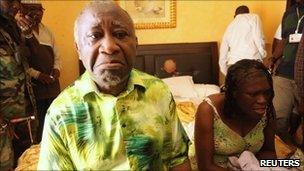 Generals who fought for Ivory Coast's ex-leader Laurent Gbagbo have pledged loyalty to his rival, internationally recognised President Alassane Ouattara.
Mr Gbagbo's arrest on Monday ended a four-month power struggle that plunged the country into chaos.
There was confusion about his whereabouts on Tuesday, with the UN retracting an earlier claim that Mr Gbagbo had been moved out of Abidjan.
The city remains unstable, with sporadic gunfire heard.
Five generals who had remained loyal to Mr Gbagbo pledged allegiance to Mr Ouattara at a ceremony on Tuesday, but there are reports that some soldiers and militiamen have refused to surrender.
About 1,500 people have been killed across the country and a million forced from their homes during the stand-off, which began in November when Mr Gbagbo refused to accept he had lost the presidential election.
Mr Gbagbo and his wife, Simone, were taken from his residence to Mr Ouattara's headquarters at the Golf Hotel in Abidjan immediately after his arrest.
Television footage showed Mr Gbagbo sitting in a room, looking dazed but apparently uninjured.
On Tuesday the UN spokesman Farhan Haq initially said he had been moved from the hotel - without giving details of his whereabouts.
But Mr Haq later retracted the claim, saying: "Contrary to earlier information, Laurent Gbagbo remains at the Golf Hotel."
Mr Ouattara has promised that Mr Gbagbo will not be harmed and "treated with dignity".
Mr Ouattara also announced that a truth and reconciliation commission would be set up to "shed light on all the massacres, crimes, and all cases of human rights violation".
Both sides have been accused of atrocities.
The UN Human Rights Council has said UN personnel had found 536 bodies in the west of the country since the end of March.
Meanwhile, Mr Ouattara's Prime Minister, Guillaume Soro, has reiterated that forces loyal to them captured Mr Gbagbo at his residence, and not French troops as the former president's supporters have claimed.
"The officer who arrested Mr Gbagbo did so in the name of the Republican Forces," he told a news conference in Abidjan.
Troops loyal to Mr Ouattara also began patrolling the streets of the southern city on Tuesday in an attempt to restore order. Despite their presence, sporadic gun and mortar fire was heard.
It was not clear whether Gbagbo supporters - thousands of whom were given weapons in recent weeks - or criminals were responsible.
Our correspondent says some Abidjan residents are still too afraid to leave their homes in case they are caught by gunmen. Many have been trapped for days.
The only robust and well organised force the new president can count on are the UN and French forces, our correspondent adds.
Analysts say the pro-Ouattara forces, who swept down from their northern strongholds earlier this month, include army defectors, as well as ethnic militiamen and traditional hunters, who may not always obey orders.
Until a 2002 rebellion split the country in two, Ivory Coast - the world's largest cocoa producer - was the most developed economy in West Africa.