Ivory Coast: 'Gbagbo weapons cache' uncovered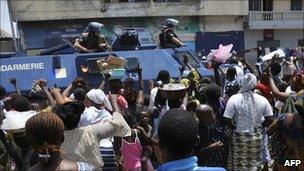 French troops have discovered several large arms caches in Ivory Coast that they said would have been used by former Ivorian leader Laurent Gbagbo.
The weapons, stored at villas in the main city of Abidjan, included mortars, cannons and rockets.
Mr Gbagbo is reportedly being held under house arrest in Abidjan.
French forces led an assault against him on Monday to force him from power. He had refused to accept defeat in a November election.
His rival in last year's election, Alassane Ouattara, who was internationally recognised as winning the poll, has now taken power.
During the stand-off between Mr Gbagbo and Mr Ouattara about 1,500 people were killed and a million forced from their homes.
The BBC's Mark Doyle says the French army took journalists to three innocent-looking villas in central Abidjan where they had discovered the weapons.
He says there were enough arms there to launch a new war, more evidence that the dispute over last year's polls was leading the country into chaos.
The French troops documented the arms before handing them over to African UN soldiers for safe disposal.
Earlier, five generals who had remained loyal to Mr Gbagbo pledged allegiance to Mr Ouattara, though there are reports that some soldiers and militiamen have refused to surrender.
US President Barack Obama has called Mr Ouattara to congratulate him and offer support as Ivory Coast tries to recover from the recent conflict.
Mr Ouattara's government said Mr Gbagbo had been placed under house arrest, without saying where, AFP news agency reported.
"Pending the opening of a judicial inquiry, Mr Laurent Gbagbo and some of his companions have been placed under house arrest," said Justice Minister Jeannot Ahoussou-Kouadio.
There had been confusion about Mr Gbagbo's whereabouts, with the UN retracting an earlier claim that he had been moved out of Abidjan.
Immediately after his arrest Mr Gbagbo had been taken with his wife Simone to Mr Ouattara's headquarters at Abidjan's Golf Hotel.
Mr Ouattara has promised that Mr Gbagbo will not be harmed, but rather "treated with dignity".
He has appealed for calm, and announced that a truth and reconciliation commission will be set up to "shed light on all the massacres, crimes, and all cases of human rights violation".
Both sides have been accused of atrocities.
Troops loyal to Mr Ouattara also began patrolling the streets of the southern city on Tuesday in an attempt to restore order. Despite their presence, sporadic gun and mortar fire was heard.
International human rights group Amnesty International warned that those seen as supporters of Mr Gbagbo were at risk of violent reprisals, despite Mr Ouattara appeals.
"Today in Abidjan, armed men, some wearing military uniforms, have been conducting house-to-house searches in neighbourhoods where real or perceived supporters of Laurent Gbagbo are living," the group said.
It quoted one witness saying he had seen a policeman belonging to Mr Gbagbo's ethnic group being dragged from his house and shot at point blank range.
Until a 2002 rebellion split the country in two, Ivory Coast - the world's largest cocoa producer - was the most developed economy in West Africa.
Related Internet Links
The BBC is not responsible for the content of external sites.