African press on reconciliation and French role in Ivory Coast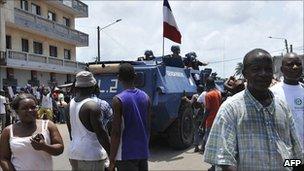 The capture of former Ivorian President Laurent Gbagbo has provoked comment in newspapers across the African continent.
There is general relief that the conflict appears to be over, with some papers urging new President Alassane Ouattara to begin a process of reconciliation to win over Gbagbo supporters.
Other papers explored the role played by France in the decisive phase of the civil conflict, asking whether the intervention of French troops amounted to "neo-colonialism".
Additionally, other African leaders and the African Union in particular also came in for criticism from some sectors of the press after they chose not to become involved in the crisis - the AU was described as "comatose" by one Nigerian newspaper.
"The storming of Ivory Coast strongman Laurent Gbagbo's bunker and his subsequent arrest is a major achievement for advancing the cause of free and fair elections in Africa... Without the aid of French troops, it is unlikely that Ouattara would have won the battle for the country so easily. It is therefore important for France to impress upon the new Ivorian leader that his primary focus is to unite the country."
"Much will depend on how President Ouattara handles a very delicate situation. This is an occasion that calls for magnanimity in victory rather than the search for retribution… His emphasis must be on winning over his foes, rather than in defeating them through military force."
"Ouattara is the rightful president of Ivory Coast and Gbagbo was a usurper. The French government was right to support his removal, even if they are accused of neo-colonialism."
"We expect Ouattara to put in place a process of national reconciliation. He cannot wish away the 46 per cent that voted for Gbagbo. But Gbagbo must not be spared. He must answer for his war crimes. He must face trial so that others like him will learn from his case."
"It is about time we rolled out the red carpet and began to treat the French troops like returning astronauts from the moon. While Ouattara and French forces were doing somebody else's job, the African Union was comatose in far away Tripoli dining and massaging Gaddafi's ego."
"For those African leaders who claimed to prefer staying away from the Ivorian crisis… their positions have been dealt a blow by the realities of the carnage which took place in that country. They should bow their heads in shame as their discredited foreign policy is dragged in the mud."
"The conundrum you get at the end of so many conflicts like this is whether you choose justice or peace. Ouattara needs to push for political reconciliation and needs to form a national unity government, and being lenient is probably the best way to achieve that."
"Ouattara has to work hard to eradicate punitive expeditions, settling of scores, death squads and other invisible commandos... He has to show evidence and prove his opponents wrong... that he will not be in Ivory Coast as a mere pro-consul of a bulimic and neo-colonial France."
"The Ivorian crisis must be a lesson and a warning to other 'Gbagbos' who are still hiding in their holes. The international community's intervention in the Ivorian crisis saved African democracy - a response to those who believe that democracy in Africa is just an illusion."
"The task awaiting Ouattara will be monumental…His first task will be the physical reconstruction…The second task, more arduous, will be reconciling Ivorians, gluing the two pieces of a torn society."
"Ivorians need reconciliation. A challenge for Ouattara considering the way he came to the presidency, elected but backed by soldiers… He has to avoid being the hostage of the soldiers. Lest we forget, he was brought to power by the people."
"African countries and politicians can learn from the Ivorian experience. Let this be a lesson for each and everyone as Ivory Coast embarks on the path of reconciliation to come out of the crisis."
"The time of reckoning will always come for every dictator... Dictatorships will never leave voluntarily, even if beaten in clean elections."
BBC Monitoring selects and translates news from radio, television, press, news agencies and the internet from 150 countries in more than 70 languages. It is based in Caversham, UK, and has several bureaux abroad.