Alpha Blondy: 'Ivory Coast was heading for genocide'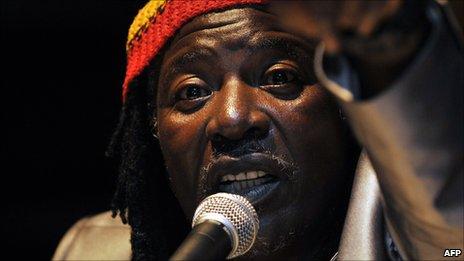 Ivorian reggae star Alpha Blondy has often been outspoken about the problems in his country where this week ex-leader Laurent Gbagbo was dramatically captured by forces loyal to his rival.
During the four-month stand-off between Mr Gbagbo and Alassane Ouattara, recognised by the UN as the winner of November's polls, about 1,500 people were killed and a million forced from their homes.
The singer and UN peace messenger for Ivory Coast told the BBC World Service about what he sees as the way ahead after the bitter election dispute - and of the moment he heard of Mr Gbagbo's surrender.
The first question I asked, is "Is he alive?" and I was answered: "Yes." So I thought, "Thank God at least he and his family are safe", because I did not want Alassane Ouattara to have blood on his hands.
I'm afraid people will try to take revenge. I don't want revenge. I want all these things to stop.
I think a Truth and Reconciliation Commission could help a lot to ease the tension and anger.
But truth and reconciliation cannot be done right away; they have to wait for people to cool down before they talk about that.
They have to secure Abidjan and secure the whole country.
And it's a very long procedure, so let's not rush. If you rush, it will end in failure, and we cannot afford another failure.
We need to keep sending messages of forgiveness, messages of brotherhood, and let people of Ivory Coast know that politics is politics, but we are still brothers and sisters.
Let's think about tomorrow. Let's see a brighter future for our families and our children.
Let's try to forgive each other, and rebuild what has been broken.
We have to try to ask people in the churches and in the mosques to send the same message of reconciliation and forgiveness.
It would be very hard to talk about reconciliation if Gbagbo has go to on trial on Ivory Coast's soil.
I doubt Ivory Coast justice is qualified for this. There would be too much passion; it is better that this is done away from Ivory Coast.
Going to the International Criminal Court, that would be the normal procedure.
I heard many times people talking about the Ivory Coast being on the edge of a civil war.
We weren't on the edge of a civil war, we were deeply in a civil war.
So I personally asked for the United Nations, for any person who could help Ivory Coast, to put out that fire, because we were heading straight for a genocide.
And I'm not even sure if there has not been a genocide. When the world investigates, they might find some very, very nasty things, believe me.
So it's a good thing that the UN and international community decided that enough is enough, let's stop that right there.
People who wanted Mr Gbagbo to hang on by force, those people were completely crazy. They didn't care about how many people got killed.
How can you give machine guns to kids, to 10-year-old kids?
They gave so many machine guns to the kids, now the problem is how to get those kids back to normal. How to get the machine guns out of their hands?
So let's investigate to see if there was a genocide, yes or no.
I live in Abidjan, but I was born in the centre of Ivory Coast.
In my family you've got everybody - you've got the Dioula, the Baule, my first son's mother is Bete.
My 10 kids have different mothers, so really this war was for me a personal disaster.
In my family some were supporting Alassane Ouattara, and some were supporting Laurent Gbagbo.
We were told it would be peaceful election, a very transparent election, with fair play, and that the defeated candidate would call the winner and congratulate him.
That's what we thought, but it was just a nasty joke.
I think that Laurent Gbagbo is - or was - a good guy.
But he was surrounded by people who were using the "Ivorite" or Ivorian-ness concept - it's a very tribal, a very nationalistic attitude, that says Ivorians from the north are not pure Ivorians.
I asked Mr Gbagbo for a total abolition of this concept of Ivorite. But he did not listen, or was not allowed to listen.
You cannot for some political reason decide that some are more Ivorian than others.
There is a song of mine which was a real revelation, I was surprised when I listened to it this year. It's called "Course au Pouvoir", or Running for Power.
The song goes: "There is a blood on the road that leads to the tower of power. There is blood, innocent blood."
The lyrics of that song describes what we are living today in Ivory Coast.
So the politicians cannot say that I did not warn them. I warned them, but power and greed made them deaf.
I would not want to be a politician - no way, because I love life too much!
You cannot be a good politician if you are not a good liar. You have to be able to lie with conviction.
What we are living with now is the failure of the Ivory Coast political family.
I would love all the Ivory Coast people, in all political parties, to come together.
It's not only Mr Ouattara's duty to reconcile Ivory Coast's people.
Every one of us should get involved in this reconciliation process, and the rebuilding, the reconstruction of our country.
Related Internet Links
The BBC is not responsible for the content of external sites.