Will Nigeria's elections be free and fair?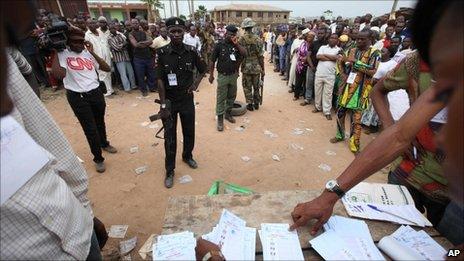 Despite a series of bomb blasts that cast an ominous cloud on the eve of Nigeria's parliamentary polls last weekend, there seems to be an agreement among local and international observers that the first leg of country's election marathon was generally free and fair.
But that was just the beginning.
There is still a feeling of unease among people about the possibility of attaining a truly free and fair ballot in the presidential elections due this Saturday and the polls for Nigeria's 36 powerful state governors 10 days later.
Given that Nigeria's past electoral history is marred with allegations of blatant rigging and thuggery, they feel they have reason to worry.
For many Nigerians, the 2007 election - the second since the return to civilian rule in 1999 - was the worst ever conducted in the country.
Even late President Umaru Yar'Adua acknowledged the polls were flawed as he was sworn in.
"We will ensure that we raise the quality and standards of our general elections to meet international standards," Mr Yar'Adua promised.
He made good on his pledge to set up a panel of respected Nigerians to look into the electoral process and offer resolutions.
He did not live to see the outcome, dying in office nearly a year ago, but the panel led to the appointment of Attahiru Jega as the head of the previously discredited Independent National Electoral Commission (Inec).
A former professor of political science and firebrand activist during military rule, he is now saddled with the responsibility of overseeing what must sometimes feel like an impossible task of delivering credible polls.
"First all we have a very thorough process of evaluating what went wrong in the previous elections," he said.
"And at the minimum we would have election that is substantively better than the ones we've had before."
Despite the assurances, some politicians are still distrustful of any electoral reforms.
The fact that the initial parliamentary vote had to be postponed from 2 April after voting material failed to reach many areas may not have calmed the sceptics.
But for some in the opposition, the problem is that Mr Jega was appointed by President Goodluck Jonathan, who took over as president in May 2010.
They worry he may dance to the president's tune.
Among those doubtful of Inec's ability to conduct a free and fair election is one of the main challengers for president, Muhammadu Buhari.
A former military ruler, the Congress for Progressive Change candidate has urged his supporters to "protect their votes".
Former trade unionist Adams Oshiomhole, now governor of Edo State for the opposition Action Congress of Nigeria, put it more strongly.
"My appeal to Edo people is that on election day: You vote, you stand, you wait. They must count the votes and announce the winner. If they rig, you kill them there."
However, Nigerians often find the problems are not necessarily on voting day and elections can be rigged long before the actual day of the polls.
For instance, in previous voters' registration exercises, names like Nelson Mandela and Mike Tyson have featured on the electoral roll.
There have also been cases when a polling station recorded a 100% vote for a particular party, indicating that the opposition candidate and his family had voted for the winner.
And this year's voters' registration exercise also left much to be desired.
Ad hoc staff trained for the exercise could not operate the Data Capture Machines; people queued up for hours and then days, resulting in many leaving out of frustration without registering.
But far from being jaundiced by past form, turnout to register was large.
Dayo Olayide, country director of Open Society Initiatives for West Africa, puts this down to the various encouragements offered to people by politicians and parties to register.
But such incentives or bribes on polling days are what Mr Jega and President Jonathan have promised to stamp out.
"Many people have incentive to register, but in the absence of any incentive to vote, they may stay away," Mr Olayide warns.
However, for Sanusi Ahmed, a voter in Abuja, the postponement and fears of further chaos have not put him off.
At a polling station in the capital on Saturday, he said he believed all his votes would count this time around.
"It has been peaceful here.
"People voted and are waiting patiently to ensure the votes are counted. They want to know the results before they go home. To me this is a good sign of improvement."
Another Abuja voter, Mary Ochabor, said it came down to hope: "I just pray that my vote would count, I hope it will.
"We believe in the new system and we have to ensure that there is change."
Nigeria: A nation divided
To win at the first round, a candidate not only needs the majority of votes cast, but at least 25% of the vote in two-thirds of Nigeria's 36 states. Goodluck Jonathan, of the PDP, reached that threshold in 31 states; runner-up Muhammadu Buhari of the CPC only did so in 16 states.
Nigeria's 160 million people are divided between numerous ethno-linguistic groups and also along religious lines. Broadly, the Hausa-Fulani people based in the north are mostly Muslims. The Yorubas of the south-west are divided between Muslims and Christians, while the Igbos of the south-east and neighbouring groups are mostly Christian or animist. The Middle Belt is home to hundreds of groups with different beliefs, and around Jos there are frequent clashes between Hausa-speaking Muslims and Christian members of the Berom community.
Despite its vast resources, Nigeria ranks among the most unequal countries in the world, according to the UN. The poverty in the north is in stark contrast to the more developed southern states. While in the oil-rich south-east, the residents of Delta and Akwa Ibom complain that all the wealth they generate flows up the pipeline to Abuja and Lagos.
Southern residents tend to have better access to healthcare, as reflected by the greater uptake of vaccines for polio, tuberculosis, tetanus and diphtheria. Some northern groups have in the past boycotted immunisation programmes, saying they are a Western plot to make Muslim women infertile. This led to a recurrence of polio, but the vaccinations have now resumed.
Female literacy is seen as the key to raising living standards for the next generation. For example, a newborn child is far likelier to survive if its mother is well-educated. In Nigeria we see a stark contrast between the mainly Muslim north and the Christian and animist south. In some northern states less than 5% of women can read and write, whereas in some Igbo areas more than 90% are literate.
Nigeria is Africa's biggest oil producer and among the biggest in the world but most of its people subsist on less than $2 a day. The oil is produced in the south-east and some militant groups there want to keep a greater share of the wealth which comes from under their feet. Attacks by militants on oil installations led to a sharp fall in Nigeria's output during the last decade. But in 2010, a government amnesty led thousands of fighters to lay down their weapons.
Related Internet Links
The BBC is not responsible for the content of external sites.