Uganda: Police tear gas 'walk-to-work' protesters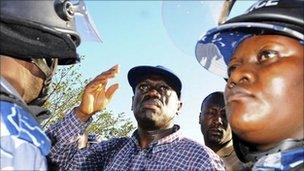 Ugandan police have fired tear gas during a walk-to-work protest in the capital, Kampala, and arrested several opposition politicians behind it.
For the second time this week, people were asked to walk to work to protest against rising fuel and food prices.
Police tried to arrest opposition leader Kizza Besigye, but a group of his supporters shielded him.
A BBC reporter says the authorities are clearly worried about the possibility of street demonstrations growing.
Dr Besigye was defeated by President Yoweri Museveni in February's presidential election but says the poll was rigged.
Before the vote, he had called for Egypt-style uprisings in case of fraud.
The police responded by banning public demonstrations.
Several opposition politicians were arrested by the police as they walked from their homes to work in central Kampala on Wednesday morning.
But the BBC's East Africa correspondent Will Ross says arresting Dr Besigye proved more difficult.
He was met by anti-riot police who fired tear gas as hundreds of his supporters surrounded him, shielding him from arrest.
"We received information that he [Dr Besigye] had asked people to join him on the way to create chaos in town," police spokesman Vincent Ssekate told AFP news agency.
Opposition supporters have also blockaded roads in some areas of the city.
Our correspondent says the opposition started the walk-to-work campaigns on Monday, aware that any attempt to demonstrate in one place would be swiftly broken up by police.
Those who participated on Monday were small in number, he says.
Opposition politicians, including Dr Besigye, were arrested, charged with inciting violence and later released.
The police action was widely condemned by human rights groups and foreign embassies.
The Uganda Law Society said restrictions on constitutional freedoms were turning Uganda into a police state.
Dr Besigye has been defeated by Mr Museveni in three presidential elections, gaining 26% to the president's 68% in February.
The pair used to be allies - Dr Besigye was once Mr Museveni's personal physician.
Related Internet Links
The BBC is not responsible for the content of external sites.