Press welcomes Mubarak arrest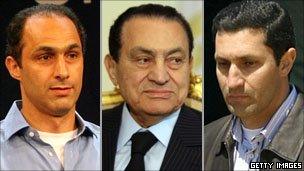 Newspapers in Egypt and the wider Middle East have commented widely on the arrest of former Egyptian President Hosni Mubarak and his sons over allegations of corruption.
Egyptian newspapers praised the decision to detain Mr Mubarak and his sons for 15 days pending investigations by the public prosecutor as a sign that nobody should be above the law following the revolution in the country.
Elsewhere in the Middle East, newspaper editorials said that the arrests should be a lesson for other leaders in the region, while one Iranian newspaper saw the hand of America behind developments in Egypt.
Calling this corrupt regime to account from top to bottom, just as is happening in the unprecedented state of affairs unfolding in Egyptian history now, is a lesson to whoever allows himself to disobey people who are the ultimate source of authority.
It is the Egyptians' right to celebrate the achievements made so far thanks to their great revolution… those achievements were crowned by the most important demand, namely to put almost all the leaders of the former regime to a fair trial without any exceptions.
Everybody now realizes that the revolution will continue until all its goals are achieved and that 11 February (the date when Mubarak stepped down) was just the beginning and not the end.
The prosecutor-general's decision to hold former President Hosni Mubarak and his sons Ala and Jamal in custody… proves that we are witnessing a state of law and that no-one in Egypt is above accountability.
Mubarak's family is perhaps the first Arab family leaving the palace for prison but it may not be the last in light of 'the revolution and the rage'…This is really a quick message to them: Your fate will be darker than that of Mubarak.
To those who are unconvinced , we say that what is happening in Egypt these days is not a joke but in fact a serious change… This change is a chill in the blood for many despotic rulers and their corrupt entourages, not only in the Middle East and Africa but throughout the Third World.
Mubarak's trial for corruption and for embezzled and stolen funds is not enough. Rather, he should be tried for tarnishing Egypt, and also for… the diminishing of its Arab role.
Who would have believed that a day would come where we would see President Hosni Mubarak and his sons Jamal and Ala behind bars? We can now say with all confidence that the blessed Egyptian revolution has completed its victory... and has now opened a new and bright page not only in Egypt but in the whole region.
By considering replacing Mubarak, America is forced to sacrifice its allies in order to protect its interests in the region… After the call by the Egyptian revolutionaries for Mubarak's trial turned into a national demand, American politicians are forced to bring another dictator to court against their will.
BBC Monitoring selects and translates news from radio, television, press, news agencies and the internet from 150 countries in more than 70 languages. It is based in Caversham, UK, and has several bureaux abroad.