Tunisia's former President Ben Ali faces 18 charges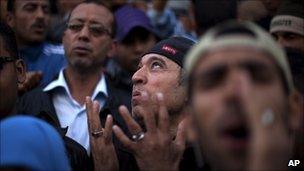 Tunisian authorities say they want to try former President Zine al-Abidine Ben Ali on 18 different charges, including voluntary manslaughter and drug-trafficking.
Justice Minister Lazhar Karoui Chebbi said the charges were among 44 to be made against Mr Ben Ali, his family and some former ministers.
An international warrant for Mr Ben Ali's arrest is in force.
He was ousted in January amid a popular uprising and fled to Saudi Arabia.
Authorities said at the time they had arrested 33 members of his family, reportedly on suspicion of plundering the country's resources.
In an interview on state TV late on Wednesday, Mr Chebbi said 18 legal cases had been prepared against Mr Ben Ali, including ''conspiring against the state, voluntary manslaughter and drug use and trafficking", reported Tap state news agency.
Mr Chebbi said authorities had issued a request to Interpol to freeze the assets of Mr Ben Ali and his family, and said a delegation was being sent to Interpol headquarters in Lyon, France, to try to speed up the enforcement of the request.
Mr Ben Ali is accused of ordering security forces to crack down on the revolt that began in mid-December.
The UN calculates 219 people died during the Tunisian uprising - including 72 in the country's jails - a far higher toll than that provided by Tunisian authorities.
Caretaker authorities have appointed a new government and the notorious and extensive secret police service has been dissolved.
Correspondents say the authorities are under pressure to establish their legitimacy in the eyes of protesters.
Related Internet Links
The BBC is not responsible for the content of external sites.