Burkina Faso's Blaise Compaore sacks his government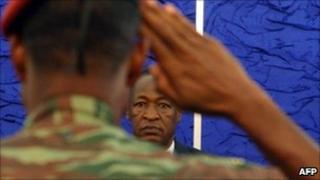 Burkina Faso's president has dissolved his government after members of his presidential guard went on an overnight rampage in the capital Ouagadougou.
Blaise Compaore named a new army chief and fired the head of his presidential guard after the unrest - apparently in protest against unpaid allowances.
Mr Compaore, in power since 1987, had sought to calm soldiers earlier this month after similar complaints.
Burkina Faso has been affected by the turmoil in neighbouring Ivory Coast.
The World Bank warned on Thursday that the Ivorian conflict had disrupted supplies and also pushed up prices for processed foods such as dried milk, sugar and vegetable oil in Burkina Faso and other landlocked countries in the region such as Mali and Niger.
Presidential grip slipping?
The dissolution of government was announced in a statement broadcast on national radio said.
"The secretary generals of ministerial departments will ensure the execution of current business," it said.
Mr Compaore had briefly fled the capital during a reported mutiny by his personal guard overnight.
Gunfire was reported in the presidential compound and nearby barracks after demonstrators marched through the capital and other towns on Thursday, angered by rising food prices and alleged human rights abuses.
Unrest among soldiers in the capital quickly spread to other barracks and firing went on until just before dawn, says the BBC's Mathieu Bonkoungou in Ouagadougou.
Residents were said to be so scared by the shootings that many stayed in their homes throughout Friday.
Mr Compaore has ruled the country since taking power in a coup from his friend Thomas Sankara 23 years ago.
He has since won four presidential elections, the latest in November 2010.
But analysts say his grip on the army appears to be slipping.
Earlier this year, students protested in several cities against the death in detention of a young man. Government buildings were torched and six students were killed.
In March, soldiers went on the rampage and managed to free a number of colleagues arrested for rape.