Kenya: Wagalla massacre survivors testify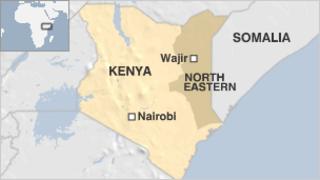 A Kenyan truth and reconciliation commission has been hearing testimonies from people who witnessed a massacre carried out by soldiers in 1984.
The Wagalla massacre was the result of an effort to disarm ethnic Somali clans in the north-east of the country.
The government said that only 57 people were killed but survivors say close to 5,000 people died.
There may be compensation and apologies for what is considered one of Kenya's worst cases of human rights abuses.
'Burnt to death'
The BBC's Will Ross in the capital, Nairobi, says what happened in February 1984 in Wagalla near the town of Wajir is an extremely controversial and hushed-up chapter from Kenya's history.
For years, the government has been accused of downplaying the scale of the atrocities committed and failing to bring anyone to account.
Heavily armed ethnic Somali clans in the arid north-east often fought over land for grazing cattle.
In a military operation to seize the large number of weapons in the area, the security forces allegedly rounded up men and women and tortured them.
Survivors have told the Truth Justice and Reconciliation Commission how they were forced to strip naked and to lie on the ground.
They were held for five days without food and water.
Clothes doused in petrol were put on them and some were burnt to death.
Those who tried to escape were shot.
The dead bodies were not buried but were dumped in the nearby bushes where they were eaten by hyenas.
Justice?
A group of women, some of them widows, cried as they returned to give evidence in the area where they were tortured and their loved ones killed.
Sahara Kanaan is still haunted by what she witnessed.
"It is the government that murdered our people. I lost my father, my three brothers and my uncle on this same ground," she said.
"The government should bring justice for the murder of our people."
In theory, senior Kenyan officials who served under former President Daniel arap Moi in the 1980s could still face justice, our correspondent says.
That will depend on the findings of the truth commission, he says.
The commission was established following a 2008 peace agreement to end post-election violence to look into present and past atrocities committed in the country.
Last year, a new constitution was implemented, intended to end years of human rights abuses.