Global Fund denies reports of huge malaria drug thefts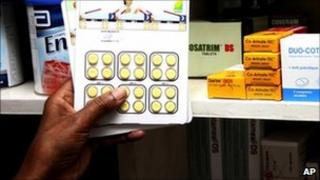 A global health organisation has denied reports that hundreds of millions of dollars-worth of donated malaria drugs may have been stolen in recent years.
In the paper, leaked to the Associated Press, the Global Fund to Fight Aids, TB and Malaria said about $2.5m ($1.5m) in drugs had been stolen since 2009.
But spokesman Jon Liden told the BBC the scale of the problem was "nowhere near" as high as other figures alleged.
Mr Liden said the fund treated all thefts extremely seriously.
AP said it had obtained the documents from an official at another health agency, who had in turn received them from an employee at the Global Fund.
In the papers, the Global Fund confirmed the theft of nearly $2.3m-worth (£1.4m) of drugs from Togo, Tanzania, Sierra Leone, Swaziland and Cambodia between 2009 and 2011 and in some incidents before. Nine other African countries, including Nigeria and Kenya, were also named.
Once stolen, the drugs - which are widely and cheaply available through legitimate sources - are then either sold in shops or through the black market, or are shipped out of the country, sometimes within hours, to be sold on.
In about 70% of cases, the drugs were stolen from government-run warehouses by members of staff.
"The cases show that drug misappropriations are well-organised and predominantly planned by insiders using falsified documents," AP quotes the documents as saying.
The papers say such theft "appears to be on the rise and becoming increasingly sophisticated".
Mr Liden confirmed the quotes and said the figure of $2.4m was not "the final word" in evaulating the group's losses.
But he told the BBC that the figure was a "fraction of our overall delivery" of drugs and that the vast majority of malaria medicines "do actually do reach people they way they're intended to".
He said the level of theft was within that expected by all development agencies.
"We are concerned about every drug theft we find, but we do not believe that in general this is an overall threat to the procurement and delivery of drugs in Africa," said Mr Liden.
"We pursue every single theft - we do consider it a troubling fact but the scale is nowhere near what has been reported."
'Cost lives'
Global Fund's investigation comes after accusations in January of large-scale corruption and drugs theft from its programmes.
In February, the fund announced it was introducing measures to "reinforce its financial safeguards and increase its capacity to prevent and detect fraud and misuse in its grants"
In a statement, executive director Michel Kazatchkine said the organisation had "zero tolerance for fraud and corruption".
The fund suspended or amended grants to several countries in light of the allegations.
The Global Fund is the biggest single source of money to tackle the world's three big killer diseases.
It was set up in 2002 and says that since then, it has committed $21.7bn in 150 countries to support programmes preventing and tackling the diseases.
Campaigners say a drastic overhaul of how drugs are distributed and stored is needed to undermine the illicit trade in medicines.
Roger Bate of African Fighting Malaria told AP it was likely that the entire system of incentives for tackling malaria needed to change so that taxpayers fund were only given once drugs reached the patients and not the government medicine stores.
But Nathan Ford of Doctors Without Borders said it was "an unfortunate reality" that poorly paid staff working in an under-resourced system would be tempted to make money from selling on medicines.