Cape Verde profile - leaders
President: Jorge Carlos Fonseca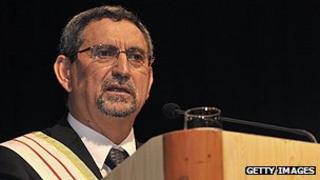 Jorge Carlos Fonseca won presidential elections with a decisive second-round victory in August 2011, beating the ruling party candidate.
Mr Fonseca, the candidate for the main opposition Movement for Democracy (MFD) needs to govern with a prime minister from the PAICV ruling party after they won a parliamentary election earlier in the year.
Mr Fonseca, a former foreign minister, beat his socialist rival Manuel Inocencio Sousa in a battle between the candidates of the two parties that have dominated the political scene for the past two decades.
The campaign hinged on the need to modernise the economy of the former Portuguese colony and keep the tourism boom alive while dealing with unemployment rates of up to 18%.
Mr Fonseca replaced Pedro Pires, who served a maximum two terms.
Cape Verde is a republic with a president, who is the head of state, and a prime minister who heads the government. The prime minister is appointed by parliament.
Prime Minister : Jose Maria Neves
Jose Maria Neves became prime minister in 2001 and gained further five-year terms in 2006 and 2011.
In the 2011 elections, his African Party for the Independence of Cape Verde (PAICV) based its campaign on strong economic growth - averaging 6% after a golden period which included the construction of three international airports, ports, and hundreds of kilometres of roads throughout the islands.
The PAICV and the MPD have dominated politics since independence from Portugal in 1975. Both have run the country, for a 10-year stint each since multi-party democracy was introduced in 1991.