Zimbabwe panic as ATM spits out old dollar bills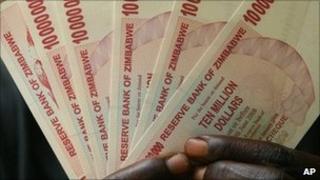 An ATM in Zimbabwe's capital Harare has been issuing the old national currency, sparking rumours that the defunct bills are back in circulation.
For the last two years, Zimbabwe has used US dollars and South African rand after its world record inflation rates rendered its dollars worthless.
The BBC's Brian Hungwe in Harare says most Zimbabweans have no wish to see the return of million-dollar notes.
The bank manager said the notes had been left inside the ATM by mistake.
'Seeing a ghost'
Our reporter says a woman approached an Interfin Bank ATM in central Harare on Tuesday to withdraw $110 (£67).
But to the her horror, it spat out wads of old worthless Zimbabwean dollar notes.
Bank branch manager Daniel Mandizvidza told the BBC that technicians had been testing the machine using old dollar notes and had left them inside by mistake.
He said the customer's account had not been debited, but she had made "unnecessary noise" about the affair.
"It must have been like seeing a ghost," one Harare resident quipped when news of the incident spread.
Inflation in Zimbabwe peaked in 2009 at 13.2bn%, a world record.
Since the unity government came to power and the local currency was abandoned, inflation has gone down and basic food commodities are readily available in shops, our correspondent says.