Libya: UN warns of blurring aid and military operations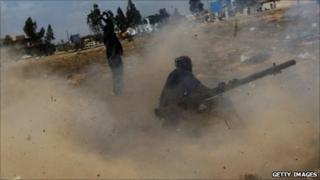 The UN's aid chief has warned against blurring the lines between military operations and relief work in Libya.
Valerie Amos said there was no need yet to accept an EU offer of military escorts to protect aid deliveries.
Meanwhile, Oscar-nominated Tim Hetherington was one of two Western photojournalists killed in a mortar attack in the besieged city of Misrata.
Another journalist said they were among a group pulling back from the front line when they came under fire.
Spanish photographer Guillermo Cervera, who was with the group, told the BBC that he and the other reporters "were coming backwards because we were scared of the fight" when they were caught in the attack along Tripoli Street.
Hetherington, 41, a photojournalist and Oscar-nominated filmmaker with dual British and American nationality, died instantly. He had covered a number of conflicts, including the war in Afghanistan.
Chris Hondros, an American photographer for Getty Images, died of his wounds several hours later.
'Impartial aid'
Inspired by uprisings in neighbouring Tunisia and Egypt, Libyan rebels have been fighting Col Gaddafi's forces since February.
The rebels, based in Benghazi, hold much of the east, while Col Gaddafi remains in control of Tripoli and most of the west.
Ms Amos spoke after Britain, France and Italy said they would send small teams of military advisers to rebels fighting to topple Col Gaddafi.
"Our responsibility, all the time, is to ensure that our aid is offered on an impartial basis," she said.
Military escorts could put aid workers and the delivery of their aid at risk, she said.
"We have to be extremely careful about that and make sure the lines are not blurred."
Humanitarian supplies were reaching both sides in the conflict, she said.
Speaking at the UN in New York after a visit to Libya, Ms Amos said the Libyan authorities had agreed to secure aid workers in conflict zones and ensure they got through government roadblocks.
But without agreement on a ceasefire, access to places such as Misrata would be determined by the intensity of the fighting, she said.
If the security situation became impossible, Ms Amos said, then the UN would call on the EU for military support for its aid deliveries.
She did not directly address the decisions by Britain, France and Italy to send teams of about 10 military advisors each to the rebels.
The British team will provide logistics and intelligence training in Benghazi. UK Foreign Secretary William Hague said it complied with the UN mandate authorising "all necessary measures short of occupation" to protect civilians.
UN Security Council resolution 1973 also authorised Nato to enforce a no-fly zone over Libya.
Late on Wednesday, Libya's official Allibiya TV reported that Nato forces fired several missiles at the Khallat al-Farjan district of the capital, Tripoli.
'International crime'
Ms Amos's comments came as fighting continued to rage in Misrata, the only major rebel-held city in western Libya.
UN High Commissioner for Human Rights Navi Pillay said the reported use of cluster bombs by Col Gaddafi's forces trying to retake the city "could amount to international crimes".
The BBC's Orla Guerin in Misrata said the city's hospital had received more than 100 casualties on Wednesday, the vast majority of them civilians. The hospital said five civilians had been killed.
Ms Pillay said there were reports of a cluster bomb exploding "just a few hundred metres from Misrata hospital, and other reports suggest at least two medical clinics have been hit by mortars or sniper fire".
One doctor at Misrata hospital told our correspondent that he and his colleagues were exhausted and asked where the international community was.
The rebel Transitional National Council rejected the government's latest offer of a ceasefire on Wednesday. A spokesman for the council, Abdul Hafeez Ghoga, said Col Gaddafi wanted a ceasefire because his forces were being destroyed by Nato air strikes.
Mr Ghoga said a suggestion that there could be a political solution which would allow Col Gaddafi and his family to remain "on the scene" was an impossibility, reports the BBC's Peter Biles in Benghazi.
On Tuesday, Libyan Foreign Minister Abdul Ati al-Obeidi had said there should be a ceasefire followed by an interim period of maybe six months to discuss constitutional reforms and prepare for a UN-supervised election - a proposal initially made by the African Union.
He said the presence of foreign military personnel would be a "step backwards".