Ivory Coast: Hunting down Gbagbo's militia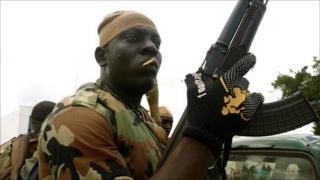 Forces loyal to Ivory Coast's new President Alassane Ouattara say they have launched a mopping up operation to stamp out the remaining combatants loyal to Laurent Gbagbo, who was deposed last week. The BBC's Thomas Fessy joined them on the frontline in the main city of Abidjan.
It is a scene of urban guerrilla warfare - men in a patchwork of uniforms advance in the deserted streets of one of Yopougon's many sub-areas, called Sable.
The area, in the north-west of the commercial capital, is a stronghold of former President Laurent Gbagbo.
Armed men, believed to be Mr Gbagbo's Young Patriot youth militants and mercenaries from Liberia, still control these streets of Abidjan.
Kalashnikovs in hand, most of the soldiers fighting for Mr Ouattara, now known as the Republican Forces, wear traditional hats and lucky charms.
Until recently they were rebels, who took control of the northern part of the country during the civil war which ended in 2003. They are now expected to defend the new president as a professional force.
Tanks
One of them urges his colleague on, as he fires a machine gun mounted on a pick-up truck.
But the resistance is fierce and a sudden loud blast echoes above the soldiers, forcing them to retreat.
"They have tanks," says Captain Amadou Foumba, who has led the troops into the neighbourhood.
"We've been able to see at least two of them, we need reinforcements."
Facing heavy artillery, the Republican Forces will need more than a few rocket-propelled grenades and AK-47 rifles.
But they have blocked the perimeter of the neighbourhood in their attempt to flush them out - and the last civilians are fleeing.
"Gbagbo's supporters shoot at people," says a man running for safety.
"They break into our houses, they loot everything. So we pray to God that our brothers fight well to get Gbagbo's men out of this area. It's really difficult for us at present."
Further along, a burnt body lies at the side of the crossroads.
Abuses are being reported on each side of the conflict and it is difficult to know the circumstances of this killing.
Cars are being stopped and searched as they hunt for those suspected of wanting to continue the fighting.
Young men beg to be spared as they are stripped by Republican Forces.
An angry soldier points his Kalashnikov at a youngster as he kneels down - his two friends, on their knees either side of him, look petrified.
"They are militiamen. Let's finish them off right here!" shouts the soldier, wanting to take revenge and execute them on the spot.
But his commander, Sergeant Ori Boussou, tells him the instructions are clear: "Detainees should not be mistreated."
"You are our little brothers," he tells the three young men.
"Go and tell your friends to lay down their weapons and nothing will happen to them. We are here for everybody, our country needs to move on."
The three are released.
'Well treated'
People being apprehended on these patrols are kept in a nearby petrol station which has been turned into a base for the new army.
Dozens of people have been held since Mr Gbagbo was arrested last week, but many claim they had no part in the violence.
About 30 of them are in the maintenance bay, lying up against the walls, half naked, waiting to be questioned.
They tell me they are fed and well treated.
"I am a DJ. I am not ready to take weapons for war, to die for nothing," says Richard Tehe, 28, who was arrested last Sunday.
It is difficult to tell whether Mr Tehe ever carried a weapon or fought for the former president, though he confesses that he is not happy that Mr Gbagbo has been arrested.
"But I am happy that the war is finishing quickly," he says.
Casualties are being brought into the makeshift base as commanders re-organise their troops.
The chief of the battalion, Zouwa Ouattara, remains confident that Mr Gbagbo's strongholds will be pacified soon.
"I don't think we will need one month - it is just a question of organisation and decision," he says.
His men too want to complete the job and take full control of the city.
President Ouattara vows to reconcile the country, but to gain the confidence of all Ivorian people optimism needs to be turned into fact.
Back at the battleground, Republican Forces sit behind a deserted garage, sipping beers in the shade as they wait for reinforcements to arrive.
"It is not forbidden to drink," Capt Foumba tells them, but warns they must not get too drunk.
"When you are at the front, try to see who is in front of you. I beg you. We do not have enough men.
"We must finish this job today, and if God wishes so, we will."
I ask him whether the beer will really help.
"I think so indeed. I think so," he says, smiling.