Sudan's Bashir accepts 'responsibility' for Darfur war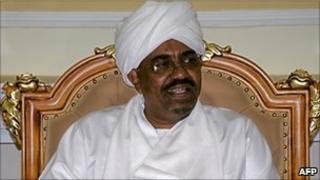 Sudan's President Omar al-Bashir has said he accepts responsibility for the civil war in Darfur.
In an interview, Mr Bashir said that, as president, he is responsible for everything which happens in Sudan.
But he disputed the version of events offered by international media and the UN, saying the West was trying to vilify him.
Mr Bashir is wanted by the International Criminal Court (ICC) for alleged genocide during the conflict.
"Of course, I am the president so I am responsible about everything happening in the country," Mr Bashir told the Guardian.
"Everything happening, it is a responsibility. But what happened in Darfur, first of all, it was a traditional conflict taking place from the colonial days."
Mr Bashir said his troops did not fight against ordinary Darfuris, despite numerous allegations of thousands of civilians being killed in ground and air attacks.
He said only 70,000 people have been displaced by the eight-year-old war, disputing the UN's figure of close to two million.
'Political issue'
In the past the president has also disputed the UN's estimate of more than 300,000 deaths caused by the Darfur conflict, saying the real figure is 10,000.
The leader said the charges against him by the ICC were politically motivated, accusing the body of "double standards" and describing the chief prosecutor, Luis Moreno Ocampo, as a liar.
"It's not about justice, it's a political issue," he said.
Mr Bashir also warned of instability in Southern Sudan, which will secede from the north on 9 July.
Earlier this year, Mr Bashir said he would accept the results of January's referendum in southern Sudan, which saw an overwhelming vote in favour of independence.
The semi-autonomous southern government has accused Mr Bashir of supporting several of the southern generals who have gone into rebellion, a charge the president's advisers deny.
He also drew parallels between Sudan and Libya, accusing Western powers of using military might to further their own positions.
"The resources of Libya like petrol make it important to other countries like France, Britain and Europe in general," Mr Bashir said.
"It is important for them to see a regime in Libya that would be, if not loyal, friendly toward those countries.
"Regarding us, they [the US, Britain and France] were trying to change the regime in Sudan since 20 years, this is not new news for us," he added.