Chad profile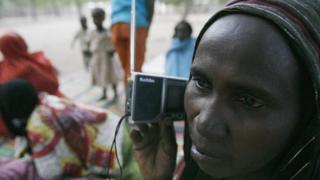 Radio is the main medium, but state control of many broadcasting outlets means that few dissenting views are heard.
State-run Office National de Radio et Television du Tchad (ONRTV) runs national and regional radio stations and the sole TV station, Tele-Tchad.
Around a dozen private radios are on the air, some of them run by non-profit groups. They are subject to close official scrutiny.
The BBC (90.6) and Radio France Internationale broadcast on FM in the capital.
Media criticism of the president is not tolerated, says Reporters Without Borders (RSF). Harassment of journalists by security agency officers "has created such fear among the press that journalists are going into hiding", the Committee to Protect Journalists (CPJ) said in 2017.
Around 387,000 internet users were online by 2016 (Internetlivestats.com).
Press
Le Progres - daily
N'Djamena Hebdo - private weekly
L'Observateur - private weekly
Le Temps - private weekly
Notre Temps - private weekly
Alwihda Info - news website
Television
Radio
ONRTV - state-owned
Dja FM - private
Al-Nasr - private
Al-Bayan - private