Ivory Coast court chief Yao N'Dre rejects blame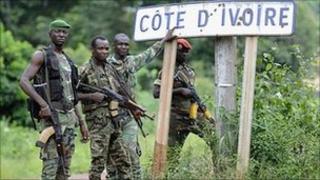 The head of Ivory Coast's highest court has rejected personal responsibility for the crisis which engulfed the country after last November's election.
Paul Yao N'Dre overturned the results of the election, handing victory to Laurent Gbagbo and sparking a dispute which culminated in heavy fighting.
Mr Yao N'Dre - speaking after a meeting with new President Alassane Ouattara - said all Ivorians were to blame.
Earlier, forces loyal to Mr Ouattara exchanged gunfire in Abidjan.
The incident took place between the Invisible Commandos group - which controls areas of Ivory Coast's main city - and troops brought from the north of the country.
It was the most public sign yet of splits in the coalition of forces that brought Mr Ouattara to power last week.
Following last November's election, Mr Yao N'Dre as head of the Constitutional Council said President Gbagbo had won 51.45% of the vote, invalidating UN-backed results that gave Mr Ouattara 54.1%.
The court backed My Gbagbo's claims that pro-Ouattara forces had rigged the vote in northern areas they controlled and annulled ballots cast in those polling stations.
The dispute plunged the West African country into months of bloody unrest.
Pledges of allegiance
But after meeting Mr Ouattara on Thursday, a visibly tense Mr Yao N'Dre rejected any personal responsibility for the crisis.
"We are all responsible for what happened; the current president, the former President Gbagbo, citizens, the media that inflamed it, everybody," he said.
"There is no individual responsibility. It is not about individuals, it is the institutions. We need to rebuild Ivory Coast, everyone, in a spirit of solidarity, love and fraternity."
Mr Ouattara had been receiving pledges of allegiance from senior military officers and the heads of main institutions at Abidjan's Golf Hotel where he has been based since the post-election crisis began.
Stability is slowly returning to the city, says the BBC's John James, although pockets of pro-Gbagbo militia continue to hold out in the western district of Yopougon.
Mr Gbagbo was captured last week by pro-Ouattara forces who laid siege to his presidential residence.