Ivory Coast launches Gbagbo investigation - Ouattara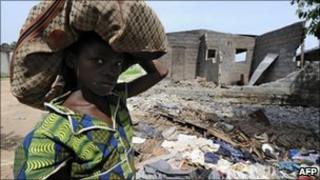 Ivory Coast's new president has said that an investigation has begun into alleged crimes committed by his predecessor, Laurent Gbagbo.
Alassane Ouattara told state-controlled TV that Mr Gbagbo's close associates were also under investigation.
Mr Gbagbo was arrested earlier this month, ending a five-month-long crisis following presidential elections.
He had refused to relinquish power even though Mr Ouattara was internationally regarded as the winner.
"Preliminary investigations are under way over the crimes and offences committed by Laurent Gbagbo and his associates," government spokesman Patrick Achi said, according to Agence France Presse.
Schools try to open
Mr Gbagbo's stubborn refusal to accept his defeat following the 28 November elections tipped the country into its most violent conflict in a decade. Thousands are believed to have been killed and wounded.
Two weeks after Mr Gbagbo's capture, Mr Ouattara's government is urging businesses and schools to re-open.
The Central Bank of West African States (BCEAO) has ordered staff at its head office in Abidjan to report to work on Wednesday so that commercial banks can begin opening up to customers soon.
The BCEAO recognised Mr Ouattara as president after disputed polls, and cut off Mr Gbagbo's access to treasury funds. Most banks closed in February because of the lack of currency and the worsening security situation.
The BBC's John James in Abidjan says getting the main banks open again will make a big difference to getting life back to normal across the country.
On Tuesday, schools struggled to reopen - with only small numbers of pupils returning, and the resumption of classes more difficult in schools damaged in the fighting.
Mr Gbagbo, his wife Simone and more than 120 people were arrested at the presidential residence in the main city Abidjan on 11 April.
The former president and his wife have been put under house arrest in separate towns in the north of the country. Half of those who were arrested alongside him have since been freed.
The government of Mr Ouattara still faces resistance from fighters loyal to the former president who have refused to disarm, although several generals and senior officers have pledged their allegiance to the country's new leader.
On Tuesday, Gen Mathias Doue, a former chief of staff to the Armed Forces of Ivory Coast, became the latest to switch sides, according to the Associated Press.
The news agency reports that he was received by Mr Ouattara at the Golf Hotel where he has set up his government since the post-election crisis began.