Koroma urges Sierra Leone to celebrate 50th birthday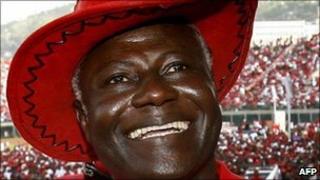 Sierra Leone should celebrate its 50th anniversary of independence from the UK despite its troubled past, President Ernest Bai Koroma has told the BBC.
"Today we are a peaceful nation. We're a nation that has agreed on electing our leaders through the democratic process," he said.
Some 50,000 people were killed and many more maimed and raped during the 10-year civil war which ended in 2002.
Correspondents say poverty, corruption and unemployment remain big challenges.
Sierra Leone is rich in diamonds and iron ore but the population still sees very little benefit from the country's natural resources.
Only four in 10 people can read and write and average life expectancy is under 50.
Pride
BBC West Africa correspondent Thomas Fessy says thousands of people still bear the horrifying trademark of Sierra Leone's civil war.
Hands and feet were hacked off by rebels who decided to make a mockery of an election slogan in the 1990s: "The future is in your hands."
The UN has warned about a potential increase in tension ahead of presidential elections next year.
But Mr Koroma says the country has much to be proud of.
"We are a nation that is quickly consolidating the peace, living in harmony, having religious tolerance," he told the BBC's Network Africa programme.
"We have to reflect on what went wrong and I believe this is not the time to apportion blame - I would want all of us as Sierra Leoneans to take responsibility for the mistakes of the past," he said.
"It has been a difficult thing to move forward but we are thankful that today we are a peaceful country. We now have a focus and we have to build on it."
Festivities have been organised all around the country for the golden jubilee - to the tune of Mama Salone, a song specially composed for the event by local rapper Innocent, urging people to come out and celebrate.
Mr Koroma also commended another song brought out by The Rapture Kids with the lyrics: "Sierra Leone, as from today, your leaders will rule in love".
"I am moved by listening to our young generation - The Rapture Kids, some of them are below seven," the president said.
"A good number of them are singing songs of Mama Salone appealing to everybody to be Sierra Leonean, and if it is coming from them at that age, then there is great hope."
Sierra Leone also has a special significance in the history of the transatlantic slave trade.
The capital, Freetown, was founded as a home for repatriated former slaves in 1787.