Ivory Coast: Pro-Ouattara forces clash in Abidjan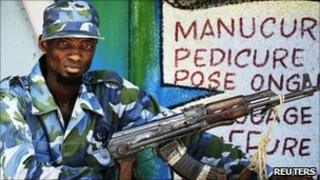 Fighting has broken out in the main Ivory Coast city, Abidjan, between forces loyal to the new president and the "Invisible Commandos" militia.
The Invisible Commandos helped Alassane Ouattara to power and gained control of parts of Abidjan during the four-month dispute after November's poll.
But they have since fallen out and residents say they can hear gun- and rocket-fire.
A militia spokesman said they were attacked as they were about to disarm.
Mr Ouattara's predecessor, Laurent Gbagbo, was captured two weeks ago by pro-Ouattara forces after refusing to step down when he lost the elections.
The backbone of these forces swept down through the country from their northern bases, three months into the stalemate.
In Abidjan, they were joined by Ibrahim Coulibaly, who led the Invisible Commandos as they gained control of northern parts of the city in the weeks before the main offensive against Mr Gbagbo began.
However, the two groups clashed in Abidjan last week as Mr Coulibaly said he wanted recognition for his role in overthrowing Mr Gbagbo.
The new government says an investigation into alleged crimes committed by Mr Gbagbo and his associates has begun.
Banks prepare to open
"The Republican Forces are attacking," Felix Anoble, a spokesman for Mr Coulibaly, told AFP news agency.
"We asked our men to disarm as demanded by the head of state. They began laying down their weapons and to my surprise we are being attacked."
The BBC's John James in Abidjan says one resident in the northern district of Abobo reported seeing about 10 pick-up trucks heading towards an area where Mr Coulibaly has his base.
Other residents say house-to-house searches are being carried out for Mr Coulibaly's men.
President Ouattara has asked them to join his Republican Forces but our correspondent says Mr Coulibaly has failed to turn up to several meetings with the new government.
Our correspondent says the president needs to bring order to the mixed coalition of forces that brought him to power to reassure people in Abidjan that he can provide stability and peace.
The government of Mr Ouattara also faces resistance from fighters loyal to the former president who have refused to disarm, although several generals and senior officers have pledged their allegiance to the country's new leader.
But the new government is now urging businesses and schools to re-open.
The Central Bank of West African States (BCEAO) has ordered staff at its head office in Abidjan to report to work so that commercial banks can open up to customers, possibly on Thursday.
The BCEAO followed West African countries in recognising Mr Ouattara as president after disputed polls, and cut off Mr Gbagbo's access to treasury funds. Most banks closed in February because of this and the worsening security situation.
Our correspondent says that the banks reopening would give a vital kickstart to the economy and allow the president to pay two months' worth of public sector salaries.
On Tuesday, schools struggled to reopen - with only small numbers of pupils returning, and the resumption of classes more difficult in schools damaged in the fighting.
The former president and his wife Simone have been put under house arrest in separate towns in the north of the country.
Thousands are believed to have been killed and wounded during the recent crisis.