Uganda's Kizza Besigye freed on bail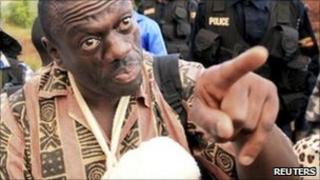 Ugandan opposition leader Kizza Besigye has been freed on bail after spending Easter in jail following his third arrest this month.
He was detained during a "walk-to-work" protest against high prices in the capital, Kampala.
The Forum for Democratic Change leader was charged with unlawful assembly.
Dr Besigye, who was shot in the hand during a similar recent protest, lost to President Yoweri Museveni in a February election he says was rigged.
Mr Museveni has warned the walking campaign over the high cost of food and fuel is illegal.
Before February's election, Dr Besigye had called for Egypt-style uprisings in the event of fraud. Police responded by banning public demonstrations.
As he left court in the town of Nakasongola, 100km (60 miles) north of the capital, Kampala, he vowed to continue his protests.
"We shall not accept that the police or other institutions of state are used to trample on our rights," he said, reports the AFP news agency.
April's "walk-to-work" campaign, organised by several opposition parties, has been marked by clashes between protesters and the police, tear gas and the arrest of opposition politicians.
Dr Besigye has been defeated by Mr Museveni in three presidential elections, gaining 26% to the president's 68% in February.
The pair used to be allies, and Dr Besigye was once Mr Museveni's personal physician.