Ivory Coast: Alassane Ouattara sworn in as president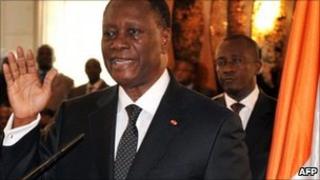 Alassane Ouattara has been sworn in as Ivory Coast's president by the man who earlier denied him of victory in November's presidential election.
In December, the leader of the Constitutional Council, Paul Yao N'Dre, ratified Laurent Gbagbo as the winner, leading to a four-month stand-off.
Mr Gbagbo has reportedly been questioned for the first time about rights abuses while he was in power.
However, his French lawyers have been blocked from attending.
They were refused entry to Ivory Coast at Abidjan's airport and reportedly put on the next flight back to Paris.
A UN team is investigating the site of an alleged mass grave in the Yopougon district of Abidjan.
A spokesman for the UN High Commissioner for Human Rights says it has received reports of human rights abuses by both sides in the area, which was taken by pro-Ouattara forces earlier this week - the last pro-Gbagbo holdout in the country's main city.
Meanwhile, the EU has signed a deal worth 44m euros ($64m; £39m) in aid for the country.
The European Commissioner for Development, Andris Piebalgs, who signed the deal in Ivory Coast, said speed was of the essence.
He told the BBC's World Today programme that the situation remained complex and that if people's lives did not improve rapidly, fighting might be resumed.
He said Ivorians felt they had lost 25 years of development potential because of the recent political and ethnic clashes.
Some 3,000 people are believed to have been killed during the unrest in the world's largest cocoa producer, previously one of West Africa's richest countries.
The Reuters news agency reports that cocoa-bean exports are to resume on Saturday, more than three months after they were halted because of the unrest.
'Possessed by the devil'
Mr Ouattara took his oath of office at the presidential palace in Abidjan in front of Gbagbo ally Paul Yao N'Dre.
Traditional chiefs, diplomats and leading politicians were at the venue, which just a few weeks ago was being bombarded by UN and French helicopters seeking to destroy Mr Gbagbo's tanks and rocket launchers.
The BBC's John James in Abidjan says UN peacekeepers stood guard and French soldiers were patrolling the streets around the palace during the ceremony.
As the proceedings started, there were ironic cheers when Mr N'Dre said everyone was to blame and had been possessed by the devil, our correspondent says.
In December, the electoral commission said Mr Ouattara had won but Mr N'Dre annulled thousands of votes cast in favour of Mr Ouattara in rebel-held areas of the north, where Mr Gbagbo had alleged fraud.
The UN, which helped organise the elections, says it found no evidence of widespread fraud.
"It's the start of a new era of reconciliation and unity between all the daughters and all the sons of our dear Ivory Coast," Mr Ouattara was quoted as saying by the AFP news agency in a brief speech after taking the oath of office.
He added that people's democratic voice had finally been heard and the Constitutional Council's decision now brought it into line with the UN, African Union and West African regional body, Ecowas.
Our correspondent say the swearing-in will put Mr Ouattara's presidency on a sure legal footing after months of violent disputes over who won the election.
Friday's swearing-in is to be followed by a ceremony attended by heads of state planned for 21 May in the capital, Yamoussoukro.
Mr Gbagbo was questioned by state prosecutors in the northern town of Korhogo, where he is under house arrest, AFP reports.
But one of his lawyers, Jacques Verges, told AFP that the deportation of himself and his colleague Marcel Ceccaldi showed that the authorities did not want the former president to receive a proper defence.
"I am very pessimistic about the future of a regime which treats lawyers in such a way," he said.
Mr Verges is nicknamed "the Devil's advocate" after a colourful career, in which he has defended Saddam Hussein, Nazi war criminal Klaus Barbie and Carlos the Jackal. He says he has also represented former Yugoslav leader Slobodan Milosevic.
He has also previously worked for Mr Ouattara.
Mr Gbagbo was arrested on 11 April by pro-Ouattara forces in the presidential residence in Abidjan.
His wife, Simone, is to be questioned on Saturday by an attorney in Odienne, in the north-west, where she is being held.
UN spokesman Hamadoun Toure told the Associated Press that they were investigating reports that up to 40 people had been killed and buried in a football field in Yopougon.
"We are told that there is a vast field that is used to play soccer. It is now an open-air cemetery," he said.