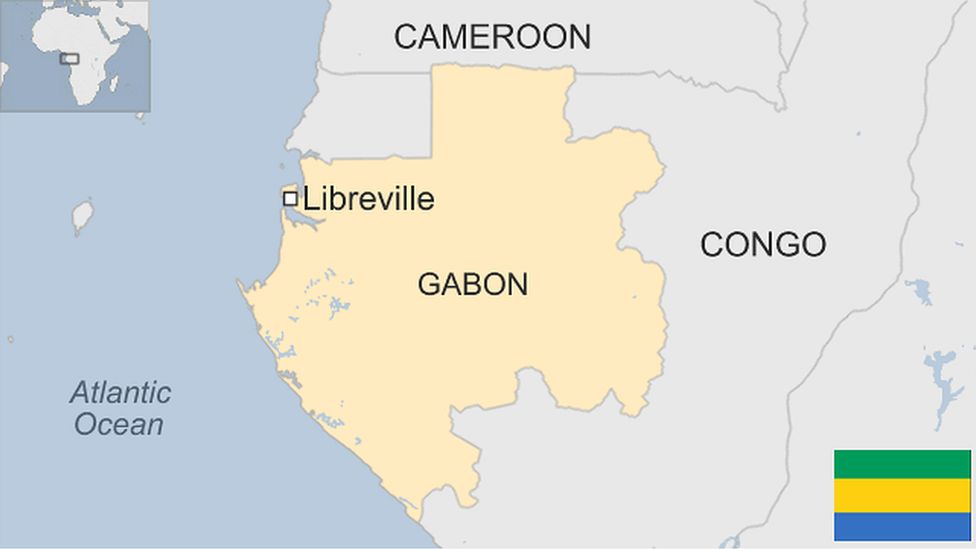 Gabon, on the west coast of Africa has had few leaders since its independence from France in 1960, with Omar Bongo ruling as president for more than four decades until his death in 2009.
During his presidency, Gabon maintained a close relationship with France under a system known as "Francafrique", receiving both political and military support in exchange for business favours.
But relations cooled after his son Ali won a contested election in 2009 and the French authorities launched a long-running corruption investigation into the Bongo family's assets.
Gabon is a major oil producer but a third of its population live in poverty, according to the World Bank.
Ali Bongo was deposed by army officers in August 2023 - coups in Mali, Guinea, Burkina Faso, Chad and Niger have undermined democratic progress in West Africa recent years.
Capital: Libreville
Area: 267,667 sq km
Population: 2.3 million
Language: French
Life expectancy: 64 years (men) 69 years (women)
Transitional leader: General Brice Oligui Nguema
A group of Gabonese army officer said they had deposed President Ali Bongo shortly after he was declared the winner of the August 2023 presidential election.
The junta, dubbed the Committee of Transition and the Restoration of Institutions (CTRI) said the army had decided to "defend the country and put an end to the regime". Cancelling the election, it said the poll had not been transparent, credible and inclusive "as desired by the Gabonese people".
As in previous general elections in Gabon, there were serious concerns about the vote. Main opposition candidate Albert Ondo Ossa complained that many polling stations lacked ballot papers bearing his name.
Both of Mr Bongo's previous wins had been disputed as fraudulent by opponents.
Mr Bongo came to power in 2009 when his father Omar died, having ruled Gabon for 41 years. He suffered a stroke in 2018 which sidelined him for almost a year and led to calls for him to step aside.
A failed coup attempt in 2019 saw mutinying soldiers sent to prison. The constitution was amended in 2023 reducing the presidential term from seven to five years.
The tradition of a free and independent press has yet to take hold, including online, says Reporters Without Borders (RSF) and journalists commonly self-censor.
Many media outlets were created when a multiparty system was restored in 1990. The online press is growing, while state TV channels such as Gabon Première and Gabon 24 are still very influential despite private competition.
Some key dates in Gabon's history:
14th Century - Bantu migrants settle in the area.
15th Century - Portuguese explorers and traders arrive in the area.
16th Century - European slave traders arrive and the coast becomes a centre of the transatlantic slave trade.
1839-1841 - France signs treaties with Gabonese coastal chiefs. Local Mpongwe ruler signs away sovereignty to the French, who establish a protectorate over the area.
1862-1887 - France expands its control to include the interior of the country.
1910 - Gabon becomes one of four territories making up French Equatorial Africa.
1958 - Gabon votes to become autonomous republic in the French Community.
1960 - Gabon declares independence with Leon M'Ba as president.
1967 - Omar Bongo becomes president after M'Ba dies. He dominates Gabonese politics for over 40 years, serving seven consecutive terms.
1968 - Bongo declares Gabon a one-party state.
1990s - Multi-party political system introduced.
2003 - Constitution amended to repeal term limits, ensuring President Bongo holds the presidency for life.
2009 - Death of Omar Bongo, succeeded by his son Ali.
2019 - Failed coup attempt. During a trip by President Ali Bongo to Morocco for medical treatment, armed rebels in Libreville temporarily declare a "National Restoration Council" to "restore democracy". Government forces quickly reassert control.
2022 - Gabon and Togo join the Commonwealth.
2023 - President Ali Bongo is deposed by a group of soldiers just after being declared the winner in the August presidential elections, a poll that the opposition argued was fraudulent.
Related Internet Links
The BBC is not responsible for the content of external sites.