South Africa: Somali-owned shops attacked and looted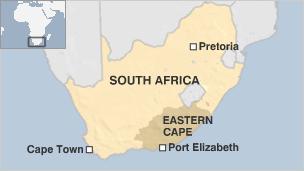 More than 50 Somali-owned shops in the South African city of Port Elizabeth have been attacked and looted by local residents.
Police said four shops had been burnt down and about 200 Somalis living near the shop premises had fled the unrest.
A Somali community leader told the BBC there was some resentment in the area about the success of Somali traders.
At least 62 people died in attacks on foreigners that swept the country three years ago.
Correspondents say that in poorer areas, foreign workers are often blamed for taking homes and jobs from the local community.
"About 200 Somalis ran away from their shops, where a lot of them live, when other residents started attacking them," Captain Andre Beetge, from South Africa's Eastern Cape police force, is quoted by the South African Press Association as saying.
Capt Beetge put the trouble down to business rivalry and said the situation was contained by the early hours of Thursday morning and people were now returning to their properties.
In total, 52 shops were looted and three were burnt down in the Motherwell area and three shops were looted and one torched in Kwadwesi, the police said.
Abdirahman Yusuf Ahmed, a spokesman for the Somali community in the Eastern Cape, said one Somali trader was in hospital after he was tied up in his shop when it was set alight.
Mr Ahmed told the BBC's Somali Service that in one area local residents had tried to help when the attacks began.
But the crowds ignored the attempts at intervention and moved from one Somali-owned shop to the next.
He said the recent local election could have stirred up xenophobic feelings in the area.
"Some parties were campaigning that they would expel the foreigners if they succeeded in the elections," he said.
Related Internet Links
The BBC is not responsible for the content of external sites.