Africa trial questions shock treatment for children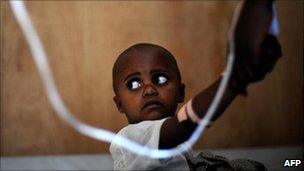 A trial in East Africa has raised questions about an internationally accepted emergency treatment for children suffering from shock.
It involves injecting a large volume of fluid rapidly, through a drip, and is used widely in Europe and the US.
But researchers say it could be linked to additional deaths of children with severe infections like malaria.
They called for a rethink of UN World Health Organization guidelines that recommend the "fluid bolus" treatment.
All children had shock - a potentially fatal condition in which the body restricts the flow of blood to vital organs, shutting down certain organs to spare blood flow for others.
The children, suffering from fevers and severe infections such as malaria, were allocated to three treatment groups, randomly.
Two groups received rapid rehydration with fluid boluses in the first hour after admission to hospital.
The other group were given fluids more slowly, replacing the amounts needed by a sick child who cannot drink.
The study, funded by the UK's Medical Research Council, found the children who were given fluid slowly did better.
The research suggests the addition of boluses led to an extra three child deaths out of every 100 children treated.
"Giving big boluses very quickly to very sick children in the African setting is not safe; however, fluids work if they're given more slowly," the principal investigator in Uganda, Professor Sarah Kiguli, told the BBC's Network Africa programme.
She said there was a need to continue the use of fluid boluses to treat certain types of shock, including those involving burns and trauma and in the treatment of diarrhoea, but the WHO guidelines should be revised in light of the study.
"The results went against recommendations of the WHO and the normal practice in wealthy countries, and this surprised me greatly," she added in a statement.
Though the results may not be directly applicable to other areas, where advanced life support equipment is more widely available, the researchers are calling for further investigations into the worldwide use of this treatment.
"The treatment may not carry the same risks in wealthy countries because children are healthier, and in particular have fewer problems of underlying long-standing malnutrition or anaemia," Professor Diana Gibb from the Medical Research Council said.
"However, the clear findings from the Feast trial do question the use of boluses for severe infections even in wealthy countries and more research is needed."
Related Internet Links
The BBC is not responsible for the content of external sites.