Nigerian youth employed to guard oil pipelines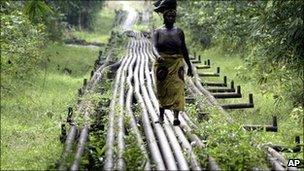 Nigeria's government has employed 12,000 young people to protect oil and gas pipelines in the Niger Delta.
Petroleum Minister Diezani Alison-Madueke said the youth would patrol some 5,000km (3,000 miles) of pipeline to stop it from being vandalised.
She said it was part of the government amnesty programme offered to the region's militias who were fighting for a greater share of oil revenues.
Locals and criminal gangs often try to pierce the pipes to siphon off oil.
Ms Alison-Madueke's announcement comes after at least two people died this week in Sapele, Delta state, in an explosion at a pipeline damaged by villagers trying to steal the oil.
Few residents of the Niger Delta, home to Nigeria's oil industry, have benefited from the area's oil wealth.
Nigeria is Africa's largest oil producers, but attacks by militants on oil installations led to a sharp fall in output during the last decade.
The thousands of fighters who laid down their weapons in a government amnesty in 2009 were promised training and jobs.
Related Internet Links
The BBC is not responsible for the content of external sites.