Rwanda genocide: Opposition claims 'forced exhumations'
By Mary Harper
BBC Africa analyst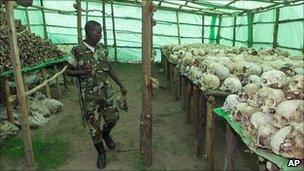 A Rwandan opposition party has accused the government of forcing people to exhume the bodies of relatives killed during the 1994 genocide.
The authorities say the remains should be brought together at memorial sites so people never forget the killings.
Some 800,000 ethnic Tutsi and moderate Hutus died in the 100-day genocide.
Despite repeated requests by the BBC neither the information minister nor Rwanda's Commission Against Genocide Ideology have responded to the claims.
A representative of the newly-formed opposition Rwandan National Congress, Jonathan Musonera, said that he had personally been affected by the government's order.
"The authorities issued instructions for us to dig up the remains of our relatives and take them to the genocide memorial sites," he said.
"My family refused, but the government said if we didn't do it, they would send prisoners to exhume the remains.
"We had no choice. My relatives dug up the bodies and gave them to the authorities who took them to the memorial sites."
Mr Musonera said exhuming the remains of his family has haunted him and that he believes they deserve to be buried with dignity at a place where they can be visited by those who survived.
But the Rwandan Genocide Survivors Association, which is close to the government, supports the policy of exhuming the remains.
"All the remains should be kept at memorial sites so that we can keep showing that the genocide happened," said Jean-Pierre Dusingizemungu, the head of the association.
He added that the bodies should be preserved properly so that they can be displayed in this way for a long time.
There are several genocide memorial sites in Rwanda. The biggest, in the capital Kigali, displays the skulls and other remains of some 200,000 people.
The authorities want the remains of every victim to be shown in public to emphasise the scale and horror of the genocide.
But many of those being asked to dig up the remains of those they lost 17 years ago, would prefer for them to rest in peace.
Related Internet Links
The BBC is not responsible for the content of external sites.