Libya: Nato planes target Gaddafi's Tripoli compound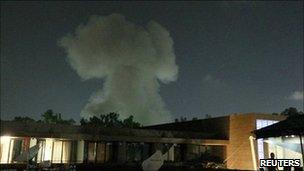 British jets have struck a compound where Libyan leader Colonel Muammar Gaddafi sometimes lives.
RAF Typhoons and other Nato jets fired guided weapons to destroy guard towers on the perimeter of the Bab al-Aziziya complex, said the Ministry of Defence.
A spokesman said it sent a clear message that the regime's leadership was no longer "hidden away from the Libyan people behind high walls".
On Thursday the UK announced plans to send four Apache helicopters to Libya.
The Bab al-Aziziya compound was badly damaged by US planes in 1986 when President Ronald Reagan attacked the Gaddafi regime after Libya was blamed for a bombing at a nightclub in Germany that killed two US servicemen.
The Chief of Defence Staff's spokesman, Major General John Lorimer, said on Saturday: "For decades, Col Gaddafi has hidden from the Libyan people behind these walls, spreading terror and crushing opposition.
"The massive compound has not just been his home but is also a major military barracks and headquarters and lies at the heart of his network of secret police and intelligence agencies.
"Last night's action sends a powerful message to the regime's leadership and to those involved in delivering Col Gaddafi's attacks on civilians that they are no longer hidden away from the Libyan people behind high walls."
News agency AP quoted a Nato spokesman as saying that Col Gaddafi was not the target of Friday's raid and it was not known if he was there at the time.
Demonstrations against Col Gaddafi broke out in Libya in February, as part of the so-called "Arab spring".
The Nato imposed a no-fly zone in Libya in March as Col Gaddafi's forces threatened to over-run rebel-held parts of the country.
Britain has sent the Typhoons, which are now based at Gioia del Colle air base in southern Italy.
International pressure on Col Gaddafi continues to grow with Russia's President Dmitry Medvedev saying on Saturday that he no longer had the right to lead Libya.
Mr Medvedev said: "The world community does not see him as the leader of Libya."