Protesting Burkina Faso soldiers fire into air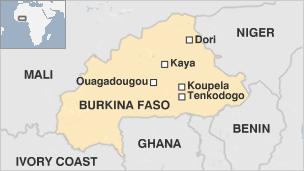 Soldiers in Burkina Faso have taken part in further protests, firing into the air during the night to press their demands for the payment of allowances.
Residents of the north-eastern town of Dori said at least three people were injured by stray bullets.
Shooting was also reported in the towns of Kaya, Tenkodogo and Koupela.
President Blaise Campaore, who has been in power for 24 years, has faced a series of disturbances since February, including an army mutiny last month.
Mr Campaore has responded by dissolving the government and removing his security chiefs. He has also granted troops a range of benefits.
Military officials have so far not commented on the overnight protests, but a government spokesman said they concerned bonuses.
"According to the explanation I've been given, these are troops of the class that passed out in 2006 who consider that they are entitled to a bonus," Alain Edouard Traore told the AFP news agency.
"But the [military] hierarchy has told them that they don't have any right."
Burkina Faso - formerly called Upper Volta - has spent many of its post-independence years under military rule.
One of Africa's poorest countries, it has significant reserves of gold, but cotton production is its economic mainstay.
Related Internet Links
The BBC is not responsible for the content of external sites.