Libya: Senior officers defect from Gaddafi army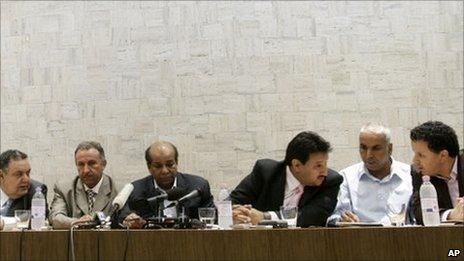 Eight senior officers who defected from Col Muammar Gaddafi's army have appealed to fellow soldiers to join them in backing the rebels.
One of the eight accused pro-Gaddafi forces of "genocide".
The men - who are said to include five generals - appeared at a news conference in Rome.
Meanwhile South African President Jacob Zuma has held talks with Col Gaddafi in Tripoli, in an attempt to find a diplomatic solution to the conflict.
One of the generals who spoke to reporters in Rome, named as Oun Ali Oun, read an appeal to fellow soldiers and security officials to abandon the regime "in the name of the martyrs who have fallen in the defence of freedom".
He also denounced both "genocide" and "violence against women in various Libyan cities"
Another general, Melud Massoud Halasa, told reporters that Col Gaddafi's forces were "only 20% as effective" as they were before the rebellion, as "not more than 10" generals remained loyal to him.
Former Libyan Foreign Minister Abdel Rahman Shalgam, who now backs the rebels and appeared at the news conference, said a total of 120 soldiers had defected in recent days.
Since the start of the uprising in February dozens of army officers, government ministers, and diplomats have abandoned Col Gaddafi.
Col Gaddafi - who was last seen on state television meeting tribal leaders on 11 May - was not among the dignitaries who greeted Mr Zuma at Tripoli airport.
As the South African president arrived, his office said the objective was to discuss an immediate ceasefire, the delivery of humanitarian aid and the implementation of reforms needed to end the crisis.
It also rejected as "misleading" reports that their talks would focus on agreeing an exit strategy for Col Gaddafi.
After the meeting at Col Gaddafi's compound, Mr Zuma said the Libyan leader was ready to accept an African Union initiative for a ceasefire.
However the AU's "roadmap", which was drawn up in February, has already been rejected by both the rebel Transitional National Council (TNC) and Nato because it did not call on Col Gaddafi to step down.
Nato imposed a no-fly zone in Libya and began bombing Col Gaddafi's forces in March as they threatened to overrun rebel-held parts of the country, a month after nationwide anti-government protests began.
South Africa voted for the UN Security Council resolution authorising the use of force to protect civilians in Libya despite the AU's concerns. Since then, Mr Zuma has joined other African leaders in accusing Nato of overstepping its mandate and calling for an end to the bombardment.
The BBC's Andrew North in the Libyan capital says that despite Mr Zuma's personal relationship with Col Gaddafi, the prospects for this peacemaking bid look thin.
On Monday, rebel spokesman Guma al-Gamati told the BBC that he believed Mr Zuma's visit would make a difference as Col Gaddafi was far weaker and more isolated than he was last month.
"The people around him and the aides and people who are fighting for him are diminishing; some are deserting," he added.
Pro-Gaddafi forces, which control Tripoli and the rest of western Libya, have been targeted by Nato under the UN resolution aimed at protecting civilians.
Libyan state media said on Monday that Nato aircraft had killed 11 people at civilian and military sites in Zlitan, 50km (30 miles) west of Misrata.