Somalia surge in child casualties, says UN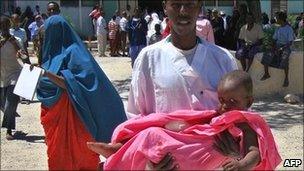 There has been a sharp rise in the number of children being injured in fighting in Somalia, the UN says.
UN trauma surgeon Omar Saleh told the BBC almost half of the total casualties in May were under the age of five.
He said the majority of the 735 children admitted in Mogadishu last month were being treated for burns, bullet and shrapnel wounds.
Fighting has intensified recently between interim government troops and Islamist militants in the capital.
Correspondents say the densely populated area around Mogadishu's main Bakara market has been affected.
The UN World Health Organization (WHO) said of the 1,590 reported weapons-related injuries in May, 46% were children under the age of five.
"This is the highest number of injured children that has been reported since the beginning of this year," Marthe Everard, the WHO representative for Somalia is quoted by Irin, the UN's humanitarian news agency, as saying.
Dr Saleh said he had just run a course in Mogadishu about managing paediatric casualties because of the rise in numbers of children affected.
"It's a recent thing, maybe due to the change of the type of the conflict," he told the BBC's Focus on Africa programme from neighbouring Kenya.
"Mostly burns and chest injuries, due to pressure, shrapnel and bullets - in that order," he said.
"Three days ago in Mogadishu, I saw two children coming to the hospital with third-degree burns; one of them was almost half of his body.
"Another kid was five years old; he had a bullet in his head; he's half paralysed."
The weak transitional government is backed by 9,000 African Union troops in its fight against the Islamist al-Shabab group, which is linked to al-Qaeda and controls much of the country.
On Monday, two AU soldiers were killed as they tried to prevent a suicide bomb attack in Mogadishu.
The AU said three of the attackers had also been killed during the assault on a position guarded by it soldiers.
Somalia has been wracked by constant war for more than 20 years - its last functioning national government was toppled in 1991.
Related Internet Links
The BBC is not responsible for the content of external sites.