Libya conflict: Nato extends mission by 90 days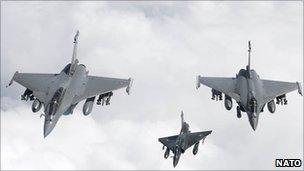 Nato has extended its mission in Libya by a further 90 days.
The move was unanimously agreed by the ambassadors of Nato's 28 member states meeting in Brussels.
"We are determined to continue our operation to protect the people of Libya," said Nato Secretary-General Anders Fogh Rasmussen.
The announcement came as Libyan Oil Minister Shukhri Ghanem confirmed reports that he had defected to the rebels.
His defection was first reported on 17 May, when Tunisian officials said he had crossed into their country, but his whereabouts were a mystery for several days.
"I left the country and decided also to leave my job and to join the choice of Libyan youth to create a modern constitutional state respecting human rights and building a better future for all Libyans," he said at a news conference in Rome.
Mr Ghanem is the highest-ranking figure to defect since former Foreign Minister Moussa Koussa fled to the UK in March.
The Libyan mission was mandated by the United Nations, and led by France, Britain and the US until 31 March, when Nato took over.
It was given an initial 90 days, which would have run out on 27 June.
Aside from Nato members, the talks at alliance headquarters included ambassadors from the five non-Nato countries participating in the Libya campaign - Jordan, Qatar, Sweden, the United Arab Emirates and Morocco.
The decision was practical in part - to accommodate the military planners of the contributing forces.
But correspondents say it also aims to send a message to Libyans who have for the past three months been trying to topple Col Muammar Gaddafi after more than four decades of autocratic rule.
"Nato, our partners, the whole international community, stand with you," said Mr Fogh Rasmussen.
"We stand united to make sure that you can shape your own future. And that day is getting closer."
The Nato chief told a news conference: "The question is not if Gaddafi will go but when. It could take some time yet but it could also happen tomorrow."
Critics of the Nato mission say it has reached a stalemate.
Some of those who went along with the original vote at the UN Security Council - notably Russia - are alarmed that a mission designed to protect civilians from forces loyal to Col Gaddafi has drifted towards deposing his regime altogether.
The Libyan authorities claim that - far from protecting civilians - the Nato air raids have already killed 700 of them; a claim Nato dismisses.
Related Internet Links
The BBC is not responsible for the content of external sites.