Downing Street denies British troops in Misrata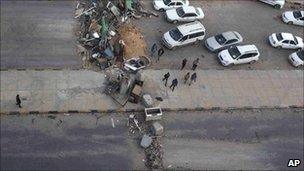 The prime minister's official spokesman has denied there are any British combat troops on the ground in Libya.
This follows press reports and photos claiming former SAS soldiers and other western security workers were helping Nato identify targets in Misrata.
The spokesman said: "Any military activity we undertake will be in accordance with UN Security Council Resolution 1973.
"I am not making any statement about people who have been photographed."
But the prime minister's spokesman insisted on Wednesday that the only British personnel on the ground in Libya were a joint Foreign and Commonwealth Office (FCO) and Ministry of Defence team in Benghazi.
He said: "I don't think it would be right for me to go into details about the security arrangements for the team. But clearly we take their security very seriously and have arrangements in place."
"We have been very clear about what the MOD/FCO team is there to do. They provide various forms of support for the Transitional National Council, to help them in the organisation of their internal structures, helping them with communications."
Misrata is besieged and the civilian population is understood to be suffering great hardship.
A ship from the United Nations World Food Programme is docking in Misrata on Wednesday, delivering 420 tons of food- enough to feed 25,000 people for a month.
At the weekend eight senior officers defected from Col Gaddafi's army and one of them accused the regime in Tripoli of "genocide".
Pro-Gaddafi forces, which control Tripoli and the rest of western Libya, have been targeted by Nato under the UN resolution aimed at protecting civilians.
Libyan state media claimed on Monday that Nato aircraft had killed 11 people at civilian and military sites in Zlitan, 50km (30 miles) west of Misrata.