Libya conflict: UN accuses both sides of war crimes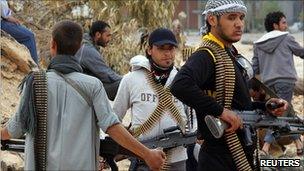 UN investigators have accused government forces in Libya of war crimes and crimes against humanity.
Rights experts said they had found evidence of crimes including murder and torture, in a pattern suggesting Libyan leader Muammar Gaddafi was behind them.
The UN mission also said opposition forces were guilty of abuses that would constitute war crimes, although they were not as numerous.
Earlier, Nato extended its mission in Libya by a further 90 days.
The UN investigators' report, released on Wednesday in Geneva, was carried out by a team of three human rights experts.
Early on Thursday, explosions were reported in Tripoli, as aircraft were heard flying overhead. Nato has been carrying out regular air strikes on the Libyan capital.
Migrant workers 'tortured'
The trio of investigators travelled to Libya to carry out the investigation, and met both sides in the conflict, as well as human rights groups and medical professionals, and families of those detained.
It based its findings on interviews with 350 people in government- and rebel-held areas of the country, as well as in refugee camps outside its borders.
"In accordance with its mandate to look also at crimes committed in Libya, the commission has... reached the conclusion that crimes against humanity and war crimes have been committed by the government forces of Libya," the commission said in a statement.
"The commission received fewer reports of facts which would amount to the commission of international crimes by opposition forces, however, did find some acts which would constitute war crimes."
The report raised concerns about alleged acts by Libyan rebels of torture and cruel treatment, particularly against migrant workers.
It will be debated by the UN human rights council in Geneva on Monday.
Earlier on Wednesday at a meeting in Brussels, 28 Nato member states unanimously agreed to prolong the alliance's mission in Libya.
The Libyan intervention was mandated by the UN - and led by France, Britain and the US until 31 March - when Nato took over.
It was given an initial 90 days, which would have run out on 27 June.
Aside from Nato members, the talks at alliance headquarters included ambassadors from the five non-Nato countries participating in the Libya campaign - Jordan, Qatar, Sweden, the United Arab Emirates and Morocco.
The decision was seen as practical in part - to accommodate the military planners of the contributing forces - but correspondents say it also aims to send a message of support to the rebels.
Nato intervened in Libya after the UN passed a resolution for the protection of civilians, amid a two-month revolt inspired by other uprisings in the Arab world.
It has intensified raids in recent weeks with attacks on command-and-control structures in the capital Tripoli.
A car blew up in the rebel stronghold of Benghazi near a hotel used by rebel leaders and foreign visitors. There were no reports of injuries
Oil Minister Shukhri Ghanem confirmed at a news conference in Rome, Italy, that he had defected to the rebels
Thirteen servicemen, including a colonel and four commanders, have deserted the government side and fled to Tunisia, the official Tunisian news agency reports
Related Internet Links
The BBC is not responsible for the content of external sites.