Burundi peacekeepers in Somalia 'unpaid'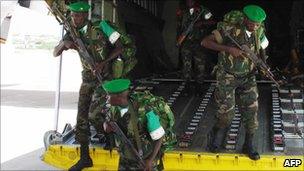 Burundian soldiers serving with the African Union peace force in Somalia have told the BBC they have not been paid since January.
The five months of arrears total an estimated $20m (£12m) for the nearly 4,000 Burundian peacekeepers.
Burundi's army spokesman Col Gaspard Baratuza said the African Union had paid the money into the Bank of the Republic of Burundi.
But he said the central bank had not disbursed the salaries to the soldiers.
The African Union pays the Burundian soldiers, who make up the 9,000-strong Amisom peace force battling Islamist militants in the Somali capital, Mogadishu, slightly more than $1,000 each every month.
The BBC's Prime Ndikumagenge in the Burundian capital Bujumbura says the salaries are not paid in Somalia, but directly into their accounts through Burundi's central bank so the soldiers' families can access the money more easily.
Two soldiers, requesting anonymity as they are not allowed to discuss army issues publicly, told the BBC the situation was not sustainable.
"The Amisom force commander from Uganda has told us that the money is being paid on a monthly basis. But in Burundi we do not know where the money is going," one of them told the BBC's Network Africa programme.
"Now our families think we get the money and hide it from them."
They said some soldiers believe the money has been diverted by the government to serve other purposes before being paid to them.
"In short we do not want to be used as commercial objects. We are serving the name of our nation; let it serve ours by paying us on a monthly basis as this has to be," he said.
Col Baratuza, who in an interview with the BBC's Great Lakes Service in April had promised the arrears would be paid that month, said on Wednesday evening the problem would be sorted out soon.
The AU force in Somalia deployed to Mogadishu in 2007 to back the weak interim government.
Somalia has been racked by constant war for more than 20 years - its last functioning national government was toppled in 1991.
Related Internet Links
The BBC is not responsible for the content of external sites.