Libya rape claim woman Obeidi deported from Qatar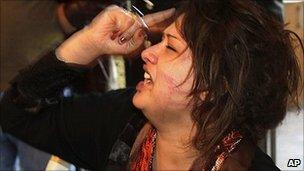 Eman al-Obeidi, the Libyan woman who claimed to have been raped by supporters of Col Muammar Gaddafi, has been deported from Qatar to eastern Libya, UN officials say.
A spokesman for the Libyan rebels said she had arrived in the city of Benghazi and was "welcome to stay".
Ms Obeidi had sought refuge in Qatar after arriving there from Tunisia.
The reason for her deportation is not clear. The UN says it runs contrary to international law.
"She is a recognised refugee and we don't consider there is any good reason for her deportation," Sybella Wilkes of the UN Refugee Agency (UNHCR) told the Associated Press.
"Forcibly returning a refugee who survived gang rape not only violates international law, but is cruel and could trigger further trauma," said HRW's Bill Frelick.
"All eyes are now on the authorities in eastern Libya, who should allow al-Obeidi to leave the country."
A witness quoted by HRW said Qatari officials had taken Ms Obeidi from her hotel room on Wednesday night and forced her and her visiting parents to board a flight on Thursday to Benghazi.
Benghazi is the stronghold of rebel forces who are trying to oust Col Gaddafi.
Rebel spokesman Jalal el-Gallal told AP: "She is welcome to stay, this is her country."
US state department spokesman Mark Toner said Washington was "monitoring the situation".
In March, Ms Obeidi rushed into Tripoli's Rixos Hotel where foreign correspondents are based and shouted out her story of being stopped at a checkpoint, dragged away and gang raped by soldiers.
As reporters recorded her story, government minders grabbed her and dragged her away.
She vanished for several days before turning up in Tunisia.
Ms Obeidi said she had escaped with the help of defecting military officers.
Related Internet Links
The BBC is not responsible for the content of external sites.