Albertina Sisulu: South Africa loses a moral compass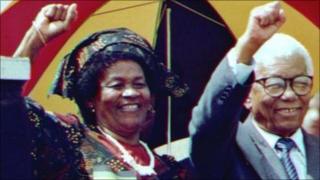 As South Africans mourn the death of a political icon, Albertina Sisulu, they should reflect on whether they are still championing the values that were at the heart of the anti-apartheid struggle, analysts say.
The 92-year-old Mrs Sisulu died while watching the news on television at her home in Johannesburg on Thursday.
South African political analyst Aubrey Matshiqi says he was watching the same news bulletin.
"It was about members of the ruling African National Congress throwing missiles at each other at a meeting in KwaZulu-Natal province because of a fight over positions," he told the BBC.
He says it shows the extent to which the ANC - the former liberation movement now in power - has departed from the values that Mrs Sisulu upheld throughout her life.
"She came from a generation of leaders who represented the golden period of the ANC. They put the interests of the nation before their own interests, and were genuinely committed to building a non-racial society," says Mr Matshiqi.
"Today, many ANC leaders see the organisation simply as a vehicle to accumulate power and money."
Brave
Married to Nelson Mandela's right-hand man, the late Walter Sisulu, Albertina Sisulu was an anti-apartheid activist in her own right.
"She was very motherly, but also a strict disciplinarian," recalls Sisisi Tolashe, the secretary general of the ANC Women's League.
Mrs Sisulu rose to prominence in 1956 when she played a leading role in a mass protest against racism laws in the city of Pretoria, then the citadel of white power.
Her political career reached a peak in 1983 when she was elected co-president of the United Democratic Front, then the internal wing of the banned ANC.
The apartheid regime detained and put Mrs Sisulu under house arrest on numerous occasions, but she remained resolute in her commitment to the anti-apartheid struggle.
"She was very brave," Ms Tolashe told the BBC's Network Africa programme.
Working as a nurse in between her activism, Mrs Sisulu remained loyal to her husband, Walter, while he was jailed for nearly 30 years on Robben Island with Nelson Mandela.
The twice-divorced Mr Mandela once recalled that the Sisulu couple shared a "generosity of spirit".
"Because they as a couple were totally giving of themselves, they have at all times been secure in their relationship," Mr Mandela said.
Strong bonds
Recalling when the couple were reunited after Walter Sisulu's release from jail in the late 1980s, Mr Matshiqi says he was a member of the ANC's military wing, charged with arranging security at the Sisulu home in the Johannesburg township of Soweto.
To his surprise, the couple refused to allow guards to be stationed outside their house.
"Their desires were quite different from those of the ANC. They wanted their home to be accessible and for people to walk in and out as and when they pleased," Mr Matshiqi says.
He says the Sisulu household was always full of warmth and love.
"Even when Walter was in jail, we, as young activists, used to be there all the time. Albertina was like a mother to us and we were like her children," Mr Matshiqi says.
It showed the strong bonds that existed in the ANC during the liberation struggle, he says.
"We have all become more distant now. It's probably because we have become too busy in our professions and in government."
He says he last saw Mrs Sisulu soon after her husband died in 2003.
"I will see her again when she's buried. It's quite sad."