In quotes: Albertina Sisulu remembered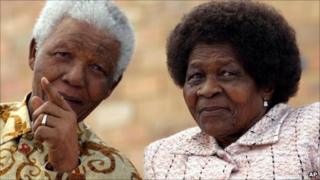 South Africans have been paying tribute to one of the leading lights of the anti-apartheid movement, Albertina Sisulu, who has died aged 92.
She was the widow of Walter Sisulu, a friend and mentor of former South African President Nelson Mandela. A political figure in her own right, "Ma Sisulu", as she was affectionately known in South Africa, has been described as the "embodiment of motherhood".
Jacob Zuma, South African president
While we mourn her loss, we must thank her most profoundly for the selfless service to all South Africans and humanity at large, for her generosity of spirit and for teaching the nation humility, respect for human dignity and compassion for the weak, the poor and the downtrodden.
Zwelakhe Sisulu, her son
Thinking about my earliest memory of her, the most striking thing about her to me when I was a small boy was that she was very tall, very distinguished. Everyone would know who she is. She had presence. If she walked into a room, you would know she is there. My mother was always a giver. Both of my parents were givers, and they would take nothing from anybody.
Achmat Dangor, head of Nelson Mandela Foundation
As Nelson Mandela said in 2003 at the opening of the Walter Sisulu Paediatric Cardiac Centre, "She [Albertina] deserves so much credit for the quality of a life of service that Walter led. Her own sacrifice and service deserve as much of our respect and recognition." She was, as Mr. Mandela said, quite simply "wise and wonderful". South Africa has lost a treasure.
Ahmed Kathrada, anti-apartheid activist jailed on Robben Island
I know she is the mother of the nation but personally I grew up under Walter and Mama from the 40s and I have always regarded them as part of my family. Politically she was a great humanitarian, a great comrade, a loving comrade and an inspiration. She never ever gave up.
Helen Zille, leader of opposition Democratic Alliance party
It's a tragedy. She represented the very best that South Africans can be. She had strength, courage and deep commitment in the face of adversity and suffering.
Floyd Shivambu, ANC Youth League spokesperson
She occupies a central role in our hearts, because she is among the few women who were part of the official launch of the ANCYL in 1944. The ideals she fought for will live forever, because we have picked up the spear to continue with the struggle for total economic emancipation of our people.
Sisisi Tolashe, general secretary of the ANC Women's League
She has been a very brave and powerful woman in South African politics. The first time I met her I was from prison, we met her so she could take us through what to expect, she was so motherly. She spokes to us like a politician, but she mostly spoke to us like a mother. She was a very loving person.
Bantu Holomisa, opposition United Democratic Movement leader
We must hold tight to the teachings and memories of her unselfish concern for the welfare of others. Through Mama Sisulu, the nation had the privilege of witnessing hard work, discipline and leadership par excellence.