Tunisia: Many migrants feared drowned after boat sinks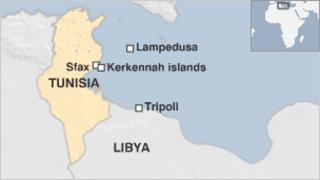 Scores of migrants are feared drowned off Tunisia's after a Europe-bound boat from Libya capsized, officials say.
Earlier reports by the Red Crescent and UN said 150 bodies had been found, but Tunisia's coast guard later said only two had so far been recovered.
About 250 passengers, mainly from Africa, remain missing after the boat hit a sandbank, then capsized during a rescue operation.
An estimated 580 people were saved by the coast guard.
The rescue operation, which began off the Kerkennah islands on Wednesday, are continuing.
Seven people, including two pregnant women, are in intensive care in hospitals at Sfax on the Tunisian mainland, officials said.
Supplies ran out
"We recovered only two bodies yesterday [and] we suspended search operations because of bad weather," coast guard director Lotfi Baili told AFP news agency on Friday.
Earlier, Carole Laleve from the UN refugee agency (UNHCR) told Reuters that 150 bodies had been found off the shores of Kerkennah.
A Red Crescent doctor in Sfax told AFP that 123 bodies had been transferred to a hospital morgue.
However, following the coast guard statement, he said he had not seen the bodies for himself.
The passengers - mostly from West Africa, Pakistan and Bangladesh - had set sail from Libya's capital Tripoli on Saturday afternoon.
According to survivors interviewed by UNHCR, the boat was manned by people with little or no maritime experience.
It ran into difficulty soon after departure and experienced problems with its steering and power.
By the third day of the journey the passengers ran out of food and water and the boat ran aground near the Kerkennah islands, some 300km (185 miles) north-west of Tripoli.
It capsized as the passengers rushed to one side to reach the Tunisian coast guard and fishing boats that had approached the vessel.
On Wednesday, 195 survivors were transferred to a camp run by the International Federation of the Red Cross near Ras Adjir, close to Tunisia's border with Libya.
Another 383 are scheduled to be transported to the same or nearby camps on Thursday, the UNHCR said.
Italy has faced a massive influx of refugees since the fall of the regime of Zine al-Abidine Ben Ali in Tunisia in January and the outbreak of war in neighbouring Libya.
The Italian island of Lampedusa lies only about 130km (80 miles) off the Tunisian coast.
Italy has complained it is not getting enough help from its EU partners to deal with the influx, which has prompted some European countries to warn they may reimpose border controls.